The Montana Meth Project, an anti-methamphetamine campaign based around scary images of the perils of meth use, has been widely touted as a successful public health intervention. Its images showing the extreme consequences of using the popular stimulant "just once" have been touted by supporters as highly effective at deterring teen meth use, and it has even garnered state and federal funding and been adopted by other states based on those claims.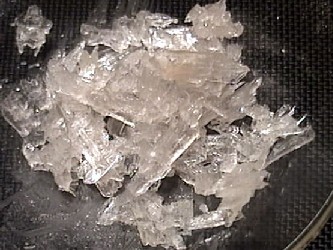 Not so fast, said the authors of a new study released this week. In
Drugs, Money, and Graphic Ads: A Critical Review of the Montana Meth Project
, published this month in the journal Prevention Science, researchers found that the ad campaign produced a number of negative consequences and challenged its impact on meth use rates in the state.
According to the study, teens who had been exposed to six months of the project's graphic ads were three times as likely to say they did not believe meth use was a risky behavior and four times more likely to strongly approve of regular meth use. Half of the teens said the ads exaggerated the dangers of meth use.
The Montana Meth Campaign and its proponents overlooked such unflattering results when presenting findings to the media and policymakers, the researchers said. Instead, the campaign portrayed its results in the most positive light possible.
The researchers also scoffed at claims the program had reduced meth use. "Meth use had been declining for at least six years before the ad campaign commenced, which suggests that factors other than the graphic ads cause reductions in meth use. Another issue is that the launch of the ad campaign coincided with restrictions on the sale of cold and flu medicines commonly used in the production of meth. This means that drug use could be declining due to decreased production of meth, rather than being the result of the ad campaign," said review author David Erceg-Hurn in a Society for Prevention Research news release Thursday.
Ereceg-Hurn also attacked the theoretical underpinnings of the campaign. "The idea behind the ad campaign is that teenagers take meth because they believe it is socially acceptable, and not risky, and the ads are meant to alter these perceptions," he said. "However, this theory is flawed because the Meth Project's own data shows that 98% of teenagers strongly disapproved of meth use and 97% thought using meth was risky before the campaign started," Erceg-Hurn said.
Spending government funds on Meth Project-style campaigns is a waste of money, Erceg-Hurn concluded. Or, in more diplomatic terms: "Based on current evidence, continued public funding and rollout of Montana-style anti-methamphetamine graphic ad campaign programs is inadvisable."