Kenneth Rau, the Bismarck, North Dakota, man with the dubious distinction of being the first person to be charged with a salvia divinorum possession offense in the US, got some good news last week. At an August 13 court hearing, prosecutors announced they were dropping charges of possession with intent to distribute, which could have earned Rau 10 years in prison (20 if a school zone charge were added on).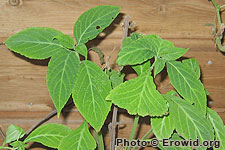 Rau still faces a charge of salvia possession, which could still see him imprisoned for up to five years. He also faces misdemeanor drug paraphernalia and marijuana possession charges.
Salvia, a perennial herb native to Mexico with potent, if short-acting and generally unappetizing psychoactive properties, is not a controlled substance in the US. But in the last few years, almost a dozen states have moved to regulate its sales or ban it outright. The North Dakota legislature banned it last year.
Rau always claimed he was unaware of the new North Dakota law when he bought eight ounces of salvia leaves for a high bid of $32 on eBay this spring. Prosecutors once claimed the eight ounces amounted to hundreds of doses, thus the possession with intent charge, but Burleigh County Assistant State's Attorney Cynthia Feland said in court last Wednesday that the amount Rau possessed was really only about eight doses.
Rau is scheduled for a September 22 trial date.