Petitioners for an initiative making adult marijuana offenses the lowest law enforcement priority on Hawaii's pot-friendly Big Island failed to gather enough valid signatures to qualify for the November ballot, but it is going there anyway. After reviewing the signature count, the county council voted 5-4 to put the measure on the ballot.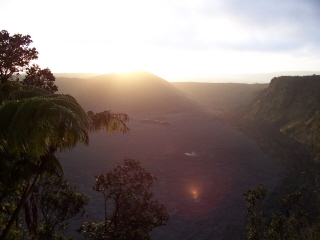 Led by a Big Island group called Project Peaceful Sky, the lowest priority initiative would bar police from going after people growing 24 plants or less or possessing 24 ounces of marijuana or less. It also orders the county to forego any state or federal funds to be used for controversial marijuana eradication efforts on the island.
For decades now, marijuana cultivation on the Big Island and law enforcement eradication efforts -- especially those carried out by noisy, low-flying helicopters -- have been a political issue. In 2000 and again last year, the county council refused federal eradication funds (although the county ended up providing such funding itself last year).
Local law enforcement is not happy. Police Major Sam Thomas, who oversees police operations in East Hawaii, worried that the initiative would create "gray areas" that could hurt police anti-drug efforts. "There is so much gray in there, and police officers, we don't do well in gray. We need to have a lot of black and white," he told the Honolulu Advertiser.
Thomas also worried to the Advertiser that growing 24 plants could create windfall profits for growers and that the initiative would hurt methamphetamine enforcement. Now, Thomas explained, when police find pot plants growing outside a suspected meth dealer's home, they can use that evidence to get a search warrant. It wouldn't be like that if the initiative passed, he said. "In this case, if I wanted to use the marijuana as the basis for a search warrant, no, I won't be allowed to do that," he complained.
But County Councilman Bob Jacobson, who introduced the council resolution to put the proposal on the ballot, said he wants to see the issue put to a public vote. He told the Advertiser that a number of people had told him they supported the initiative but were afraid to sign the petitions.
"Personally, I just believe it needs to be done," Jacobson said. "There are better, higher priorities for police than running around trying to find a few casual marijuana users."
Adam Lehmann, an organic farmer, spiritual pot smoker, and board director for Peaceful Sky told the Advertiser there is support for the initiative. "People are really tired of seeing money misappropriated away from education and healthcare to fund a military-style war on a plant," said Lehmann. "It's clearly going to give law enforcement more time and resources to focus on serious crimes. It's going to provide lots of space in our prisons, it's going to help courts run smoother, and it's going to essentially save this county's taxpayers millions of dollars every year," because they will avoid the costs of strict marijuana enforcement, he said.
Lowest priority initiatives have already been approved in six California cities; Seattle; Denver; Missoula County, Montana; Hailey, Idaho; and Eureka Springs, Arkansas.