Faced with an intractable and growing opiate addiction problem, in recent years Iran has increasingly embraced the principles of harm reduction. But now, according to an international doctors' human rights organization, two leading Iranian harm reductionists, the brothers Dr. Arash Alaei and Dr. Kamiar Alaei, have been detained without explanation by Iranian authorities.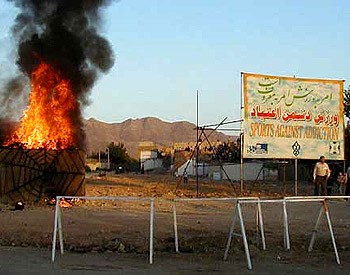 The doctors are internationally known experts on HIV/AIDS and have been leaders in HIV/AIDS prevention and treatment efforts in Iran and across the region. For the past decade, the pair have focused on harm reduction for injecting drug users in the conflict-ridden province of Kermanshah, on Iran's west coast.
Physicians for Human Rights earlier this month initiated an international campaign and petition urging Iranian authorities to end the incommunicado detention of the pair and "to disclose their whereabouts, provide them access to lawyers and family, and either to charge them with an internationally recognized crime or release them immediately."
Dr. Kamiar Alaei is a doctoral candidate at the SUNY Albany School of Public Health and is expected to resume his studies there this fall. In 2007, he received Master of Science in Population and International Health from the Harvard School of Public Health. His brother Arash is the former Director of the International Education and Research Cooperation of the Iranian National Research Institute of Tuberculosis and Lung Disease.
The Alaei brothers have held training courses for Afghan and Tajik medical workers and have worked to encourage regional cooperation among 12 Middle Eastern and Central Asian countries. They were key organizers of a tri-national meeting in 2004 in Tehran to discuss harm reduction and substitution treatment in Iran, Tajikistan and Afghanistan. At that meeting, Iran's programs proved to be inspiring role models for the region, according to medical experts who participated in the meeting.