Aroused by videos of young people using salvia divinorum on YouTube and spurred on by law enforcement eager not to miss an opportunity, legislators across the country have this year been raising the alarm about the fast- and short-acting hallucinogenic herb, despite the lack of any evidence that its use is harmful. In the latest outbreaks of salvia mania, the South Carolina and Florida Houses have passed a bill to criminalize the plant, a Massachusetts town has banned it, and police in North Dakota -- one of a handful of states where it is already illegal -- announced their first salvia bust.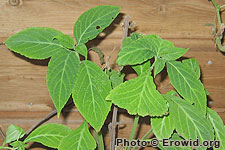 On Wednesday, the Florida House passed
HB 1363
, which would ban salvia possession and place it on the state's Schedule I, along with marijuana and other psychedelics as drugs with no accepted medical use and "high potential for abuse."
Salvia has experienced "growing popularity among teens and young adults," said Rep. Mary Brandenburg (D-West Palm Beach), the bill's sponsor. It is not clear what evidence she based that claim on.
A companion Florida Senate bill to ban salvia has already cleared committees and is ready for a floor vote. If it passes and is signed into law by Republican Gov. Charlie Crist, possession or sale of the drug would become a third degree felony in Florida.
Six days earlier, the South Carolina House passed HB 4687, which criminalizes salvia and puts it in the same category as marijuana, LSD, and ecstasy. The bill passed with little discussion on a lopsided 101-4 vote. After one more routine housekeeping vote, it heads to the Senate.
The bill was pushed by law enforcement and drug prevention groups despite little evidence it is being used in the state. Neither local law enforcement nor the State Law Enforcement Division (SLED) officials consulted by The State newspaper were aware of any reports of its use.
"SLED hasn't seen this substance in South Carolina at this point, but we're certainly prepared to enforce this new law if it is passed," said Richard Hunton, SLED inspector.
North Dakota law enforcement had its chance earlier this month, when they arrested a Bismarck man for possessing eight ounces of salvia leaf. (The drug is most commonly ingested by smoking salvia extracts, which are significantly more potent than the leaf.) Kenneth Rau has been charged with salvia possession with intent to deliver in what North Dakota cops believe is the state's first salvia bust.
Now, they're looking for more, Lt. Bob Haas of the Bismarck Police told WDAY-TV6 News. "It sure looks like there could be a market, based on the amount he had. This is the first we've seen of it."
Even some towns and cities are getting in on the act. The most recent is West Bridgewater, Massachusetts, where city selectmen voted to ban the plant this week. Although Massachusetts is among the states considering action against the member of the mint family, the state was not moving fast enough for the West Bridgewater folks.
"What makes Salvia divinorum dangerous is that it has hallucinogenic properties like LSD and it can be purchased on the same Web site where you find Beanie Babies and baseball cards," Selectman Matthew Albanese said. "I can't imagine why the Drug Enforcement Agency has Salvia listed as a 'drug/chemical of concern' as opposed to a 'controlled substance,'" Albanese said.
Albanese might have asked the DEA. The Chronicle did three weeks ago, and DEA spokesperson Rogene Waite told us that the agency is following procedure by evaluating eight factors listed in the Controlled Substances Act in determining whether or not to schedule a drug. Unlike Massachusetts selectman or various state legislatures, (this time at least) the DEA seems to actually be waiting for evidence before it acts.
Since 2005, seven states have restricted use of the substance. And about a dozen other states have similar legislation pending.