The Labor government of South Australia has banned bongs as part of a bill that makes possession of drug paraphernalia a criminal offense punishable by up to two years in jail or a $50,000 fine. In addition to bongs, the law covers such implements as hookahs, "cocaine kits," and glass pipes used to smoke methamphetamine and crack cocaine.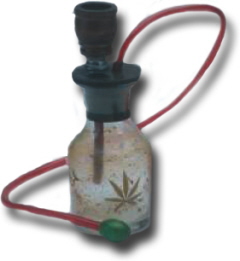 The measure won final passage in the South Australian parliament on April 10. The government of Premier Mike Rann was quick to embrace it.
"The Rann Labor government has banned the bong," crowed state Attorney General Michael Atkinson in remarks reported by the Adelaide Advertiser. "Commercial outlets retailing drug paraphernalia in South Australia will now either have to shut up shop, or find another line of business," he said, pointing out that one shop had already closed.
The new legislation closes what drug warriors saw as a loophole in state law. Previously, courts had to establish beyond a reasonable doubt that the person in possession of the item planned to use it for illegal purposes. Now, possession in itself becomes the basis for a guilty verdict.
"To my knowledge just a handful of cases have been brought against commercial outlets selling drug paraphernalia because of the difficulty of proving that the seller intended the equipment be used in connection with preparing or consuming an illicit drug," Atkinson said.
The bill was the brainchild of Member of the Legislative Council Ann Bressington, an alcohol and drug counselor who lost a child to a drug overdose in 1998, and sits on the board of Drug Free Australia and is a member of the Australian National Council of Drugs (ANCD), peak advisory body to the prime minister's office.
But while the state government portrayed the legislation as a blow against drug use, one local drug expert, pharmacology associate professor Rodney Irvine, told the Advertiser users will seek other ways to inhale smoke and that could be more dangerous. "When you close one loophole another one emerges, a different pattern of use emerges," he said.
"I would say that there's a possibility those alternative homemade ones will have some problems," Irvine added, suggesting that using a water pipe or bong could be less harmful than smoking a joint or pipe. "Intuitively, I would say that smoking anything through a water pipe is a better option than smoking it in a joint or a spliff," he said. "If you're smoking tobacco through a water pipe you've got cooler smoke. If there's cooler smoke, there are less volatile substances, therefore less tar."