In a March 31 order , the US Supreme Court declined to hear an appeal from a man who was sentenced to 15 years in prison for an offense of which he was acquitted. In refusing to hear the appeal, the high court let stand the federal judicial practice of punishing defendants convicted of one crime by crafting sentences based also on "acquitted conduct" -- in effect punishing them for crimes in which they were found not guilty.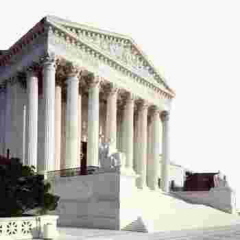 The case was that of Mark Hurn of Madison, Wisconsin, who was charged with possession of crack cocaine and possession of powder cocaine after a 2005 raid of his home in which police seized 450 grams of crack and 50 grams of powder cocaine. At trial, Hurn admitted to dealing drugs, but testified the crack belonged to other people living in the house. The jury convicted him of the powder cocaine offenses, but acquitted him of the crack offenses.
Under federal sentencing guidelines, Hurn should have faced about three years in prison for the powder cocaine conviction. But federal prosecutors argued he should be punished for both offenses with a 20-year sentence, and US District Court Judge John Shabazz agreed. Saying there was good reason to think Hurn was guilty of the crack charges, he sentenced him to nearly 18 years.
"This was an extraordinary increase," said Elizabeth Perkins, a lawyer in Madison who filed his appeal. "Allowing a sentencing judge to disregard the verdict of the jury is very disappointing," she told the Los Angeles Times.
But it's business as usual in the Alice in Wonderland world of the federal courts. Nearly a decade ago, the Supreme Court endorsed sentencing for acquitted conduct in a California case, but only in a short unsigned opinion. Under the court's rule, judges can sentence defendants by "relying on the entire range of conduct" presented by prosecutors, not just the charges that resulted in guilty verdicts. That has given judges the freedom to send people to prison for years for charges of which they were not convicted.
Hurn had appealed to the appeals court in Chicago, which agreed that his sentence was "based almost entirely on acquitted conduct," but upheld it nonetheless, citing the earlier Supreme Court ruling.
Hurn appealed to the Supreme Court last fall, with his lawyers arguing that prosecutors shouldn't be able to "execute an end run" around the jury. They cited a series of Supreme Court rulings in recent years that severely limited judges' ability to sentence defendants based on conduct not proven before a jury, but the Supreme Court didn't want to touch it. Instead, it rejected without comment even hearing the appeal.
"This is very disappointing," Douglas Berman, an Ohio State University law professor who is an expert on sentencing, told the Times. "They have dodged this for now, but eventually the Supreme Court will have to grapple with this again."