The endemic drug prohibition-related violence in Rio de Janeiro took another bloody turn March 3, when Brazilian police trying to catch members of the city's powerful drug-dealing enterprises killed at least 11 residents of a poor neighborhood, according to reports citing the Associated Press. Despite the death toll, the primary target of the raid, a suspected gang leader, apparently got away.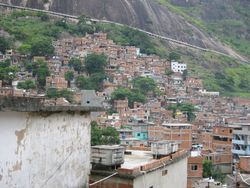 That same day, police also reported killing three drug dealers and a car thief in separate shootouts in the Rio suburb of Nova Iguaçu, according to the AP.
Television footage showed bodies lying on the streets in the favelas of Coréia and Vila Aliança after the raids. Favelas are the shantytowns that rise on the mountainsides above the city proper. Chronically underserved by the state, favela residents and local quasi-governmental organizations are locked in a variety of symbiotic relationships with both the drug gangs, or "comandos," and the police who make a living combating them.
Often patrolled by police only at their entrances -- except for the occasional raid -- the favelas provide a geographic base for the comandos, as well as retail outlets, or "bocas," for retail drug sales to favela-dwellers, and residents of the city proper.
Conflict between police and the comandos has resulted in frequent outbursts of violence, including coordinated attacks by comandos on police posts and the urban transportation system. Last year, some 1,300 people were killed in Rio's drug wars.
Last week's killings come less than a month after President Luiz Inácio "Lula" da Silva visited Rio favelas to inaugurate an infrastructure development project. At the time, he warned police to treat local residents with respect.