Five years ago, the Thai government of then Prime Minister Thaksin Shinawtra launched a bloody "war on drugs" in which an estimated 2,500 people were killed. Now, his political allies have announced that its successor has gotten underway, but they say they will not resort to extra-judicial executions of suspected drug peddlers and users.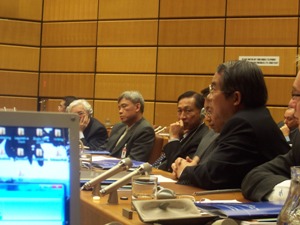 "Drugs are a chronic problem," Deputy Prime Minister Somchai Wongsawat said at a ceremony launching the six-month initiative. "Whoever is involved, police and the army will decisively arrest and prosecute the traffickers. But we will not kill or hurt anyone; otherwise, people will say this is government policy."
But Interior Minister Chalerm Yoobumrung, who is in charge of the campaign, sounded more ominous. The government would follow the rule of law, he said, then added: "If anyone does not want to die, don't walk this road," he said.
Chalerm said he had a list of 10,000 drug users compiled by police. "I can assure you all in the media that you will not get bored -- you will witness new and bold measures in this campaign," he said.
During the last Thai "war on drugs," human rights organizations accused the government of allowing police and soldiers to murder drug suspects. Thaksin defended his repressive apparatus, saying the deaths were "bad guys killing bad guys," and an investigation of his government by his government claimed security forces were acting in self-defense.
Thai officials complained that drug abuse had increased in the past two years. According to the Thai Justice Ministry, there are an estimated 570,000 drug users, up from 460,000 in 2003. While heroin is available, the most significant hard drug is methamphetamine.