In a decision handed down last Friday, the Vermont Supreme Court threw out the felony marijuana cultivation conviction of a man caught growing marijuana following a warrantless flyover of his rural property by a military helicopter. Vermont residents have a broad privacy right "that ascends into the airspace above their homes and property," the court held in State v. Bryant.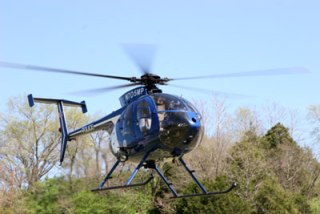 The case began in 2003, when Stephen Bryant, who owned a remote Addison County home, told a local official he didn't want trespassers. That unnamed official "found defendant's insistence on privacy to be 'paranoid,'" the opinion noted, and suggested that a Vermont State Police team do a flyover to look for marijuana. Under the rules of the state's Marijuana Eradication Team, which uses Vermont Army National Guard helicopters and pilots, flights are supposed to stay 500 feet above the ground. But an August 7, 2003 surveillance flight dipped down to 100 feet and hovered above Bryant's property for half an hour.
Troopers in the chopper saw marijuana plants, then used that information to obtain a search warrant. Bryant was arrested and charged with marijuana possession and cultivation. At trial, he argued that he used marijuana for medicinal purposes to treat an old work injury. Jurors acquitted him of possession, but convicted him of cultivation. In June, 2005, he was sentenced to 45 days. His appeal followed.
The Vermont constitution protects the privacy rights of residents even if it means some pot plants may go unseized, the court held in an opinion written by Associate Justice Marilyn Skoglund for the 4-1 majority.
"We protect defendant's marijuana plots against such surveillance so that law-abiding citizens may relax in their backyards, enjoying a sense of security that they are free from unreasonable surveillance. Vermonters expect -- at least at a private, rural residence on posted land -- that they will be free from intrusions that interrupt their use of their property, expose their intimate activities, or create undue noise, wind, or dust," wrote Skoglund.
"With technological advances in surveillance techniques, the privacy-protection question is no longer whether police have physically invaded a constitutionally protected area. Rather, the inquiry is whether the surveillance invaded a constitutionally protected legitimate expectation of privacy," she added.
"The decision is a boon to all Vermonters," said Middlebury attorney William Nelson, who represented Bryant at the Supreme Court. "It protects our privacy when we are out of doors, on our own property, and in our own yards," he told the Burlington Free Press after the decision.
The opinion serves as further evidence that the state constitution gives Vermonters greater privacy protection than federal laws do, Vermont law school professor Cheryl Hanna told the Free Press. "A lot of people feel the federal government doesn't respect privacy rights after Sept. 11," said Hanna. "Vermonters, at least at the state level, have that additional check on what the government can do."