American drug czar John Walters would be proud. Tearing a page from his "pot smoking supports terrorism" playbook, the Israeli Anti-Drug Authority this week launched a new campaign featuring Lebanese Hezbollah leader Hassan Nasrallah, in hopes of deterring Israelis from smoking marijuana.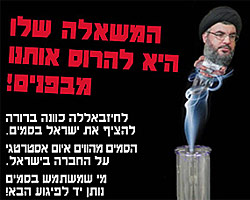 The campaign includes a poster showing Nasrallah emerging genie-like from a bong. Beneath the image, the text reads: "Hezbollah is clearly planning to flood Israel with narcotics. Narcotics pose a strategic threat to Israeli society. Whoever uses narcotics is giving a hand to the next terrorist attack."
The new campaign, with its linkage of marijuana and terrorism, comes just a week after senior Israeli security sources told Israeli media that Hezbollah, which fought Israel to a stand-off in the summer of 2006, is planning to flood the country with drugs in an effort to harm its citizens. That same day, Israeli police and IDF troops seized the largest shipment of heroin ever confiscated on the border with Lebanon, some 60 pounds.
Lebanese hash has been a staple of the Israeli drug scene for decades, but no one is growing opium there. The heroin most likely came on a long journey from the valleys of Afghanistan. But if Israel is really concerned about local potheads putting money in Hezbollah's hands, it could solve that problem by allowing domestic, regulated cultivation of cannabis.