Ecuadorian Foreign Minister Maria Isabel Salvador announced Monday that her government has filed a complaint with the International Court of Justice (World Court) asking it to order Colombia to stop spraying herbicides on coca fields along its border. The court sits in the Hague.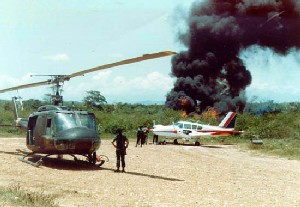 The move comes as tensions between Ecuador and Colombia remain high over a Colombian military raid last month into Ecuadorian territory that killed a high-level Colombian guerrilla leader, several of his comrades, an unclear number of Mexican students, and possibly, one Ecuadorian citizen.
During a Monday press conference, Salvador said that Ecuador had tried for years to get Colombia to stop spraying near the border and "the diplomatic process was exhausted." There was "overwhelming evidence" that herbicidal spray has crossed into national territory, ''and as a result the health and economics of numerous Ecuadorians have been seriously affected.''
Ecuador will ask the world court to rule that Colombia violated its sovereignty. It seeks an ordered halt to spraying within six miles of the border, as well as damages from Colombia.
Colombia had agreed in late 2005 to suspend spraying near the border, but started up again in December 2006, saying the guerrillas had swarmed into the area. In February of this year, Colombia announced another suspension, saying it would eradicate plants by hand, but Ecuador says it is not sure Colombia would not start spraying again in the future.