Nearly half of the groups officially listed by the US government as foreign terrorist organizations fund their activities through drug trafficking, a top DEA official said Sunday. Nothing is more profitable for terrorist organizations than drugs, said Michael Braun, the DEA's assistant administrator, speaking at a conference on "The Global Impact of Terrorism" in Israel.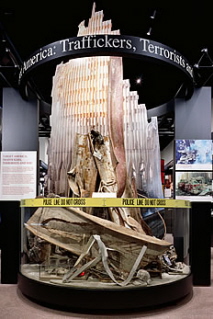 The DEA has "linked 18 of the 42 officially designated Foreign Terrorist Organizations (FTO) to drug trafficking activities of some sorts," Braun said. The resort to financing political violence through drug trafficking profits is a result of receding state support for terrorism, Braun said, as well as the fact that Al Qaeda has "shifted from a corporate structure to a franchise structure," making its affiliates pay their own way.
Money from the illegal drug trade is funding the FARC in Colombia and the Shining Path in Peru, Maoist rebels in India, and Al Qaeda and the Taliban in Afghanistan, while various Islamic groups on the terror list are also suspected of profiting from hash and heroin.
With an illicit drug trade estimated at $322 billion annually by the United Nations, the black market dollars are an irresistible source of income for such groups, which may then morph into something resembling traditional drug trafficking organizations. Braun pointed to the FARC, which originated in the 1960s as a leftist guerrilla army as "the case study for this evolution," and estimated its annual revenue from the drug trade at between $500 million and $1 billion each year.
"That's what the Taliban are doing now in Afghanistan," said Braun. "They are taxing farmers, but we have indications that they started providing security. That's what happened to the FARC 15 years ago," he added. "We'll have to deal with more and more hybrid" organizations in the future, Braun told the conference in the Tel Aviv suburb of Herzliya. "When your job takes you to the swamps to hunt snakes, you can end up taking crocs too -- they live in the same place."
What Braun did not say is that this lucrative source of funding for political violence around the world could be effectively dried up by repealing the current global drug prohibition regime enshrined in the UN drug conventions. It is, after all, illicit drugs' status as a prohibited commodity that both makes them extremely valuable and leaves them to be trafficked by violent criminals.