Oregon's Medical Marijuana Act (OMMA) will be ten years old next year, and with the nation's second largest number of registered patients -- some 16,000 of them -- it is certainly a success by some measures. But while the self-financing, state-regulated program rolls along, it looks as though it is going to be a hot issue in next year's elections.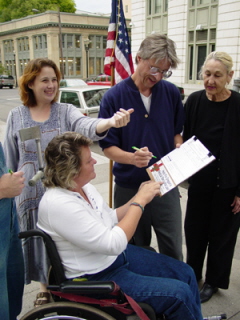 On one hand, OMMA is under direct attack in a crime-fighting initiative filed by a powerful and well-connected Republican political figure who is a veteran and inveterate initiative campaigner. On the other hand, some of the same medical marijuana campaigners who organized the 1998 initiative victory that created OMMA have filed an initiative that would broaden the program by creating a state-regulated system of dispensaries. And that's got some patients and activists feeling caught between the frying pan and the fire.
It is very early in the game, with the filing of initiatives being only the first step in a long and sometimes Byzantine process, and it is not certain that either of these two initiatives -- or a number of others already filed -- will actually be going before the voters in November 2008. But the maneuvering has already begun.
Former Republican state legislator and 2002 gubernatorial nominee Kevin Mannix has made a political career as a moralizing, tough on crime politician. In 1994, he authored a successful initiative instituting mandatory minimum sentences for people convicted of violent crimes. Other accomplishments he touts are a crime victims' rights amendment to the state constitution and an anti-stalking law.
Mannix is not one to rest on his laurels, and this year, he has already filed a dozen or so initiatives on topics ranging from regulating strip clubs to more mandatory minimum sentences -- this time for drug dealers -- to allocating a share of lottery profits to "CSI: Oregon" to requiring the state police to hire more officers. But the initiative that has the medical marijuana community on edge, the Oregon Crime Fighting Act, is a direct attack on OMMA and the medical marijuana regulation system it created.
Along with provisions calling for mandatory minimum 25-year sentences for some repeat sex offenders and making repeated drunk driving arrests felonies, the proposed initiative would "replace the 'Medical Marijuana Act' with the following Marijuana Derivative and Synthetic Cannabinoid Prescription Program," a strange Mannix concoction that would have the state of Oregon provide synthetic THC in the form of Marinol to any patient who needed but could not afford it.
Mannix told the Chronicle Thursday he filed the OMMA repeal initiative because of abuses in the program. "Law enforcement reports to me that the whole system is very loosely drawn in this state, so that they are running up against cases where people are found with a variety of drugs, including cocaine and meth along with marijuana, and they present cards saying they are caretakers for 50 people," he said.
OMMA regulations allow for caregivers to grow for only four people.
Also, Mannix argued, since Oregon has decriminalized marijuana possession, there is really no need for a state medical marijuana law. "If someone wants to possess and smoke marijuana for whatever reason, they're not subject to a criminal charge," he said.
Oregon medical marijuana activists who spoke with the Chronicle view the Mannix initiative with real concern. "Mannix is a real problem," said Madeline Martinez, head of Oregon NORML. "He has opposed OMMA from the beginning. He's always been a moral crusader, and we're very concerned about him, we're frightened he's going to take our program away from us."
"Some in the community take it very seriously, some don't," said Anthony Johnson, political director for Voter Power, the group that mobilized support for the successful 1998 OMMA initiative. "We take it very seriously, because Mannix has the backing of a lot of powerful interests, and with enough money, you can get on the ballot, and then you can run ads to campaign against OMMA," he said.
"OMMA is popular in Oregon," Johnson complained. "He must think the only way he can win the repeal of OMMA is by tying it to other provisions that crime-weary voters will find attractive, like longer sentences for sex offenders."
"It should be the primary focus of activists in Oregon to try to defeat the Mannix initiative," said Leland Berger, activist attorney, Oregon election law expert, and legal advisor to Voter Power. "If it were to pass it would be very problematic."
Berger has been putting his lawyerly acumen to work in preliminary skirmishes designed to slow the Mannix initiative's progress. He filed a petition to challenge the initiative's ballot title, arguing that it only said "replace" OMMA when the initiative would effectively repeal it. There could be more legal challenges coming down the pike, as well, he said.
But while Berger said defeating the Mannix initiative should be the "primary focus" of activists, he and his colleagues at Voter Power have already filed several initiatives themselves, including an initiative that would create the Oregon Regulated Medical Marijuana Supply System, or a network of state-sanctioned dispensaries.
Under the proposed dispensary initiative, the state of Oregon would set up a system of licensed medical marijuana growers who could provide marijuana to nonprofit dispensaries and be reimbursed for their production costs. The dispensaries would in turn be able to dispense medical marijuana to registered patients and be reimbursed for their expenses. The proposal calls for the program to be self-funding, paying for itself with fee revenues -- 10% of earnings -- and for it to fund the distribution of medical marijuana to indigent patients and further research.
While there is general agreement that something needs to be done about supply issues, the deepening of OMMA through the creation of a dispensary system worries some patients and activists, in part for fear of sparking DEA raids like those plaguing California's booming dispensary scene, in part out of disdain for the flashy -- some say greedy -- entrepreneurial style sometimes evident in California. But that is not stopping Voter Power from moving forward.
"We feel this is necessary for two reasons," said Voter Power's Johnson. "First and foremost, to get medicine to the patients who need it. The current law is very unfair to many patients who can't grow their own and don't have connections to a garden. They have to rely on the charity of others or go to the black market," he said. "But we also think our initiative will protect OMMA because it will generate millions of dollars in revenues for the state budget. Voters and politicians like programs that can fund other programs or make tax increases unnecessary."
Johnson pointed to yet a third reason for pushing a dispensary initiative. "Other ideas that have been floated, like state gardens or donation clubs, are good ideas, but they require legislative action, and the legislature has proven unwilling to solve the supply crisis. We think it's up to voters, activists, and patients to do it -- that's why we're called Voter Power."
But some important Oregon activists disagree. "I believe going forward with a dispensary initiative could in fact harm patients," said Oregon NORML's Martinez. "If we have a dispensary model like the California model, that will give ammunition to Mannix. We're very concerned about him. In fact, we're telling our members don't sign any petitions that mention medical marijuana. This cycle we don't want to do anything, and we don't want to sign anything," she said. "A dispensary initiative will distract us from fighting Mannix, and I think our priority has to be protecting the 16,000 patients who are now benefiting from the law."
That position brought a quick retort from Berger. "I find it very strange that the Oregon chapter of the National Organization for the Reform of Marijuana Laws is against reforming the marijuana laws," he said.
A lot of patient concern about a dispensary initiative has to do with "those terrible headlines from California" about dispensaries being raided, said Martinez. "We see things differently up here," she said. "We don't want corner dispensaries, and we are scared of being raided. That hasn't happened yet here, but when you start mixing this stuff up, then you have the DEA coming in, and we're very afraid that will happen with this initiative," she said.
Martinez also pointedly recalled that Voter Power had tried a similar initiative in 2004 that had received only 43% of the vote. "When this was tried before, the voters said no," she said. "Why do they think it can win this time? It hasn't even been polled," she said.
"The current initiative is much more tightly drawn than in 2004," responded Johnson. "That initiative was quite radical and expansive, like a wish list for activists, while this one is limited to trying to establish licensed and regulated dispensaries."
Johnson also disputed the idea the initiative would create a "California model." "There is no statewide regulation of dispensaries in California," he said. "Our statewide regulation adds legitimacy, as well as tighter structure and much greater control of what's going on."
As for potential DEA raids, Johnson pointed out that the initiative sets cultivation and possession limits under the levels that trigger federal mandatory minimum sentences, perhaps providing a disincentive for federal prosecutors to send in the SWAT teams.
Battle lines are being drawn in the Oregon medical marijuana community. While it is united its opposition to the Mannix initiative, there are deep strategic and philosophical divisions over how to move forward. While those are to be expected, the atmosphere can sometimes grow nasty, and that does the movement little good.
"Even though there is widespread agreement that the current system of supply is inadequate, there is disagreement among advocates in Oregon about whether to go forward with licensed and regulated dispensary proposals," Berger said. "Some of that is based on real concerns about dispensaries, but some of it has descended to personal attacks on the motivations of proponents, and that's really disappointing. Nobody circles the wagons and opens fire inward better than our movement," he said. "We need to support each other more; there are just too few of us."
Neither the Mannix initiative nor the dispensary initiative are done deals, and Berger said that the latter must do well in polling if it is to move forward. In any case, it looks as if the voters of Oregon will once again be deciding the fate of medical marijuana in the Beaver State.