A Santa Cruz medical marijuana cooperative that was raided by the DEA in 2002 was dealt a setback August 28 when a federal judge granted a US Justice Department motion to stop them from suing it. The lawsuit, filed on behalf of the Wo/Men's Alliance for Medical Marijuana (WAMM) and the city and county of Santa Cruz sought to sue US Attorney General Alberto Gonzalez to prevent his office from continuing raids on medical marijuana providers in California.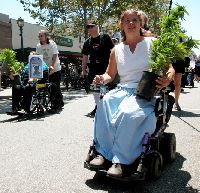 The lawsuit cited California's Compassionate Use Act, approved by voters in 1996, which makes the medical use of marijuana legal in the state. But the Justice Department successfully argued that marijuana remains illegal under the federal Controlled Substances Act, and US District Court Judge Jeremy Fogel agreed, granting its motion to block the lawsuit.
"Naturally, we're disappointed. I had hoped for something better," said Mike Corral, who, along with his wife Valerie, were cofounders of WAMM.
WAMM and Santa Cruz may be down, but they're not out just yet. Judge Fogel left two of the county's claims intact: a 10th Amendment argument that the states -- not the federal government -- have say over marijuana, and an argument that medical necessity trumps federal drug laws. The county's legal team says it will continue to argue those claims while trying to build a stronger case that the federal government is improperly intervening in areas that should be the purview of the states.