Last week, we reported on North Wales police chief Richard Brunstom's call to legalize drugs in a paper he released in response to a call from the Home Office for input on the direction the country's drug policy should take. Since then, Brunstrom's remarks have ignited a firestorm of controversy, but his force has stood behind him. On Monday, the North Wales Police Authority approved plans to send Brunstrom's paper on to Home Secretary Jacqui Smith.
The North Wales Police Authority passed three of Brunstrom's recommendations:
That the Authority submits a response to the current Home Office consultation on drugs strategy.
That the Authority submits a response to the forthcoming Welsh Assembly Government consultation on the all Wales substance misuse strategy.
That the Authority urges the repeal of the Misuse of Drugs Act 1971 and its replacement with a Misuse of Substances Act, based upon a new 'hierarchy of harm' that includes alcohol and nicotine.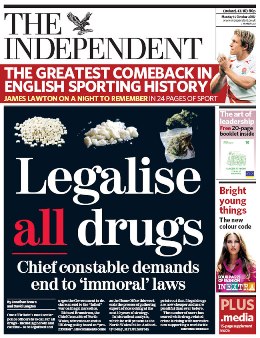 While Brunstrom's stand has excited criticism, he has also picked up at least one prominent supporter. Lord Ramsbotham, the former chief inspector of prisons, told
The Independent
Brunstom's prescription was on the money. "The present regime has failed in every way. If you look at prohibition of alcohol in the US, it failed. The Chief Constable's suggestions must be considered seriously. We've got to stop the dealers who cause so much misery for society."
He added: "I used to reckon that 80 percent of those people received into prison were misusing a substance of some kind when they came in. The amount of acquisitive crime connected to drug abuse is immense. That is why there needs to be a new approach."
A fourth Brunstrom recommendation, that the Police Authority affiliate with the Transform Drug Policy Foundation, a leading British drug reform group, is on hold pending discussions between Transform and the authority. Transform is nonetheless quite pleased with the results so far.
"It is hugely significant that the call for a legal regulation and control of drugs has now been publicly supported by the North Wales police authority, and they are to be congratulated in taking a bold stand in this urgent and vital debate," said Transform executive director Danny Kushlick. "There are many high profile individuals who support this position, but this sort of institutional support really puts the debate center stage. We hope to see other police authorities following their lead, and we look forward to the Police Authority affiliating to Transform in the near future. The Government have tried their best to avoid this debate in the current drug strategy consultation and review process, not engaging with any policy alternatives despite the obvious failings of the current approach that the North Wales police highlight so clearly," Kushlick continued. "The call from the North Wales Police Authority makes the continued evasion from meaningful debate impossible: the Government must now engage with the significant and growing body of mainstream opinion calling for pragmatic moves away from prohibition towards evidence based regulatory alternatives."
While Transform is pleased, neither the government nor the Association of Chief Police Officers (ACPO) is smiling. In response to a question from a North Wales parliamentarian this week, Home Office minister Vernon Coaker said that strict enforcement of the drug laws was needed.
The ACPO, for its part, suggested that Brunstrom's ideas were a "counsel of despair." ACPO president Ken Jones issued a statement saying Brunstrom's views were "his personal views, to which he is entitled," and that ACPO disagreed. "ACPO does not agree with the repeal of the Misuse of Drugs Act 1971 or the legalisation of drugs -- this is arguably a counsel of despair," Jones said. "The reduction of harm caused by drugs to our neighborhoods is a priority for chief officers across the UK. According to the Drug Harm Index it has been reducing since 2001. This is a complex pernicious global problem. Moving to total legalization would, in our view, greatly exacerbate the harm to people in this country, not reduce it. It simply does not make sense to legitimize dangerous narcotic substances which would then have the potential to ruin even more lives and our neighborhoods."
But it is ACPO and its fellow prohibitionists who are on a path to nowhere, Brunstrom retorted. Three million people take illegal drugs in Britain, he noted, while 2.5 million are alcoholics and 9.5 million addicted to nicotine. "This is a real counsel of despair if one chooses to look at the evidence. Seizures of drugs in the UK are less than 1%. In 2003 the UK stopped 10% of heroin coming in and only 15% of cocaine."
Meanwhile, as the debate continues, so does Britain's drug war. The Home Office announced Thursday that the number of drug offenses police reported in the second quarter of this year was up 14% over the same period last year. That's another 55,000 drug arrests for the British police, courts, and prisons to deal with.