An estimated 2,500 people were killed during a three-month crackdown on drugs by Thai Prime Minister Thaksin Shinawatra in 2003. Now, one of a half-dozen panels belatedly investigating the killings has reported that as many as 1,400 of those victims were killed and labeled drug suspects despite having no link to drugs.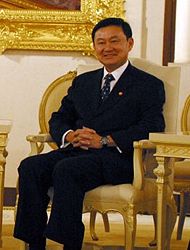 "The government drug policy was unclear," said a representative of the Office of Narcotics Control Board during a meeting at the Chao Phya Park Hotel in Bangkok. "Operation staff thus did everything to achieve the goal of reducing the number of drug traffickers. The death toll was highest in February when the policy was first implemented. The number of deaths had lowered in the two following months," the representative said, according to an account in
The Nation
.
Since Thaksin was overthrown in a coup last year, the interim Thai government has moved forward with a review of his government's drug policy and how it was implemented. A complete assessment is expected by year's end.
During Thaksin's drug war, police attributed many of the killings to drug traffickers who were presumably killing their partners to silence them. But the families of many victims protested that their family members had nothing to do with drugs or the drug trade.
Even as the new government investigates Thaksin's drug war, at least one veteran Thai politician is calling for more of the same. Chalerm Yubamrung, viewed as the number two man in the People Power Party and an avowed aspirant to the interior ministry position, told the Bangkok Post Tuesday he was prepared to follow Thaksin's bloody path.
"Drug suppression needs to be handled seriously, the same way the Thaksin administration did," Chalerm said in a lengthy interview. "Regarding the extra-judicial killings, people misunderstood that authorities killed innocent people. Instead, it could be that people were killed by their peers to cut the leads for authorities to pursue," he argued, parroting the line of police at the time of the killings.
While Chalerm said small-time dealers and users should be treated as patients, there is an urgent need to suppress the drug trade. "Illicit drug suppression cannot be handled gradually," he said. "It needs timeframes and targets, as well as authorities staying alert. But when there are mistakes and doubts, we need to clear the air promptly. It needs to be strictly, urgently and hastily handled with the provision of special task forces."
When asked point-blank if he had any criticisms of Thaksin's drug war, Chalerm couldn't find any. "There were not any failures," he said. "Some people just accused the then government. There was a high number of killings, but no one knew who carried out the activities."
Chalerm would like to be Thailand's future. Let's hope his embrace of Thaksin's bloody drug war means he has a tin ear when it comes to current Thai attitudes toward that sort of drug policy.