Southeast Asia continues its macabre response to drug trafficking and manufacturing, with nine people being sentenced to death in Indonesia this week for manufacturing ecstasy and three more sentenced to death in Vietnam for manufacturing and trafficking in methamphetamines. Another four people were sentenced to death for heroin trafficking in Vietnam the same day. The region, along with China, is responsible for most drug offense death sentences.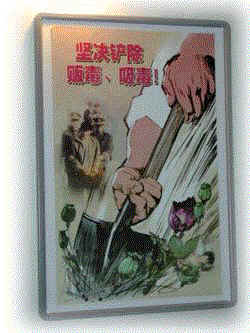 In Indonesia, the Indonesian Supreme Court Tuesday pronounced death sentences on a French man, a Dutch man, two Indonesians, and five Chinese men. The Europeans were the manufacturing experts, the Indonesians ran day-to-day manufacturing, and the Chinese funded the whole venture, which produced millions of ecstasy tablets.
"The Supreme Court considers the Frenchman and Dutchman experts," said Justice Djoko Sarwoko. "If we let them be, they would be able to produce in other place, or teach others their skills. This is a threat to the next generation." [Ed: The judge's statement is Orwellian -- even if one were to agree that the defendants should be prevented from manufacturing drugs in the future, that could be accomplished by methods other than execution.]
That same day, the People's Court of Ho Chi Minh City pronounced death sentences on three men and a woman for buying methamphetamine powder in neighboring Cambodia, pressing it into pills of various colors and shapes, and selling them to customers in the city. One other man was sentenced to life in prison, while 17 other codefendants were sentenced to prison terms ranging from five to 18 years.
"They produced and sold 24,000 pills weighing up to 6 kilograms in the period between 2003 and March 2005, when the ring was busted," said presiding Judge Vu Phi Long said. "This is one of the largest non-heroin drug cases so far."
Meanwhile, in the People's Court of Son La province imposed the death sentence Tuesday on three men for trafficking in less than 35 pounds of heroin. A woman in the case was sentenced to life in prison.
Under Vietnamese sentencing guidelines, possession, distributing, manufacturing, or smuggling more than 600 grams (approximately 1.25 pounds) of heroin or 2500 grams (a little more than five pounds) of synthetic drugs is punishable by death. Vietnam has now sentenced 22 drug offenders to death this year.
Vietnam and the nine other member countries of the Association of Southeast Asian Nations (Brunei Darussalam, Cambodia, Indonesia, Malaysia, Myanmar, Philippines, Singapore, Thailand) have vowed to create a drug-free region by 2015.