The Minnesota Supreme Court ruled May 24 that police need only articulable suspicion -- not the higher standard of probable cause -- to be able to use a drug sniffing dog to sniff the outside door of a person's residence. The 5-2 decision sparked a bitter dissent.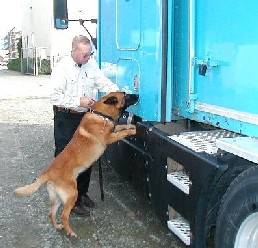 The ruling came in
Minnesota v. Davis
, in which Burnsville police were informed by maintenance workers in an apartment complex that they thought they saw marijuana grow lights and that Evans would not let them in the apartment to fix a water leak. Based on that information, police brought a drug dog to the location, and the dog reacted outside the apartment door. Police then used the maintenance workers' information, the drug dog alert, and Davis's past criminal record to obtain a search warrant, which resulted in the finding of various items of contraband and three drug charges against Davis.
At trial, Davis moved to suppress the evidence, arguing that police needed probable cause to sic a drug dog on his apartment door because the drug dog sniff of his door exterior actually amounted to a "search" of his apartment, thus requiring probable cause. He lost at the trial court, which concluded that police needed only articulable suspicion and had met that standard. The Minnesota Court of Appeals affirmed that decision, and now the state Supreme Court has reaffirmed it.
While the state constitution requires the courts to balance individuals' privacy interest against the public interest in effective law enforcement, the state Supreme Court held that the intrusion into Davis's privacy was so minimal as to not require the higher standard of probable cause. The only intrusion into Davis's privacy occurred because the dog could sniff what the public could not. "This intrusion, however, is minimal," Justice Gildea wrote for the majority.
"When we balance the minimal intrusion on [the defendant's] privacy interests inside his residence against the governmental interest in the use of narcotics-detection dogs as an investigative tool to combat drug crime, we conclude that the police needed a reasonable, articulable suspicion to walk a narcotics-detection dog down the common hallway outside [the defendant's] apartment," Gildea wrote. The report from maintenance workers rose to the level of articulable suspicion, the opinion added.
Justice Alan Page, joined by Justice Helen Meyer, strongly dissented from the majority's opinion. "This case marks a significant departure from our constitutional jurisprudence because it is the first time the court has authorized the search of a private residence based on anything less than probable cause in the absence of exigent circumstances," Page wrote. "It is a departure that takes us down a road that erodes Fourth Amendment protections in one's home. That is a road I am unwilling to go down." Unfortunately, Page was in the minority.