Hungarian Global Marijuana Marches came a week later than elsewhere, and while marches in some cities, including Budapest, came off without major problems, it was a different story in Debrecen, where local authorities and rightist mobs prevented the scheduled event from taking place. Now the organizer of the rallies, the Hungarian Hempseed Association, has announced it will sue the city.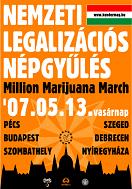 The Hempseed Association, which advocates for drugs users' rights and drug reform in Hungary, obtained a permit from local police for a stage and podium, but on the day of the march, members of the town council, accompanied by a number of local rightists, forced them to cancel the event. The official reason given was the stage would impede road maintenance.
But the week before the marches, they were the subject of a diatribe called Awaken Mob! on an ultra-rightist web site. The post called for counter-demonstrators to "turn out in large numbers and ask them whether they mean it. If so, let's chase them as far as Jamaica so they can smoke their brain-deconstructing hempseed derivatives among aborigines manufacturing intolerable music."
Rightists of the Movement for a Better Hungary may have been involved in Debrecen. They definitely were among those harassing marchers in at least one other Hungarian city.
Now, Hempseed will take the battle from the streets to the courts.