An annual drug report that mentions the possibility that Vietnamese Australians have visited Canada to learn marijuana cultivation techniques has led to a new outbreak of Reefer Madness Down Under, as well as threats from the national and New South Wales government that they intend to ban bongs and other marijuana-smoking devices.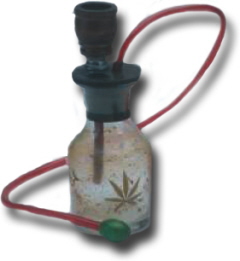 "Police fear a new form of incredibly potent cannabis is destined to hit Australia," wrote the
Herald Sun
in breathless prose. "Vietnamese criminal gangs in Canada have developed a sophisticated method of growing the plant indoors all year round. It greatly increases both the yield and potency of the cannabis and drastically cuts back the growing time for each crop," the newspaper reported in article picked up by other Australian media outlets.
"The latest criminal intelligence suggests Australian-based Vietnamese drug dealers have traveled to Canada to learn how to cultivate this new brand of highly addictive cannabis," the Herald Sun continued. "They are expected to use the knowledge to grow and sell it in Australia. This new cannabis threat was revealed yesterday in the Australian Crime Commission's annual Illicit Drug Data Report."
All Headline News more concisely but equally trashily warned that "a new strand of marijuana could be landing on Australian soil which is stronger, supposed more addictive and easier to grow."
The Australian Crime Commission's Illicit Drug Data Report 2005-2006, released this month, was not nearly as dramatic. In its section on cannabis, on which the dire media accounts were based, the report noted:
The majority of cannabis consumed in Australia is domestically produced, with cultivation prolific in all states and territories. While large outdoor bush plots, ranging in size from one to tens of thousands of plants, remain common in some states and territories, the most commonly detected method of cultivating cannabis is through the use of hydroponics (or other enhanced indoor cultivation methods). These are usually detected within residential premises. Although the number of plants is typically lower for hydroponic cultivation, growing cannabis hydroponically means it can be grown all year round and produces a higher yield of 'head' or 'buds' in a shorter period of time.

These enhanced indoor cultivation methods have been refined by Vietnamese criminal groups in Canada to yield high potency cannabis (Royal Canadian Mounted Police, 2002). There are indications that some Vietnamese Australians have traveled to Canada to further their cultivation knowledge and skills. However, it is important to note that no single criminal group dominates cannabis cultivation or supply in Australia.
What both the commission and the newspapers are talking about is nothing more than "BC Bud," or, if grown in the US or Australia "kind bud," or high-THC content marijuana being grown indoors under high-power lights. Kind bud has long been grown Down Under by Australian pot connoisseurs, and the use of hydroponic or other indoor growing systems is also nothing new. In fact, Australia appears to be unique in its peculiar delusion that hydroponic marijuana is somehow different and more dangerous.
Not allowing themselves to be detoured by the facts, Australian politicians are jumping into the fray with proposals to fight the hydro menace by banning pot pipes. According to All Headline News, the New South Wales state government is considering such proposal.
And Radio Australia reported that the national government will consider such a paraphernalia ban in December. Federal Minister Christopher Pyne made the announcement at a meeting of the Ministerial Council on Drug Strategy in Adelaide Saturday. He said the government would also look at how to regulate the advertising of paraphernalia.
The fact that pipes can also be used to smoke tobacco should be no hindrance to a crackdown, he said. "Hiding behind the idea that some of these products might be used for legitimate products [and] legitimate practices flies in the face of common sense," Pyne said. "I think the mums and dads of Australia expect us to take firm action."