Along with our weekly in-depth Chronicle reporting, DRCNet has since late summer also been providing daily content in the way of blogging in the Stop the Drug War Speakeasy, as well as Latest News links (upper right-hand corner of most web pages), event listings (lower right-hand corner) and other info. Check out DRCNet every day to stay on top of the drug reform game!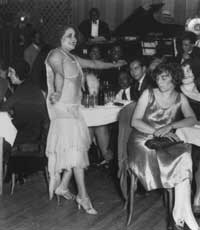 This week:
David Borden on "Big News: Sentencing Commission Crack Cocaine Sentencing Report is Out," "Initial Hurwitz Prosecutor Resigns from DOJ #2 Post," "Maryland Drug Reform Bill and Veto Threat," and many links to many blog posts and articles out there on the net.

Phil Smith on "Fighting Meth With Misinformation in Idaho," and "Cannabis Cash 'Funds Islamist Terrorism'"--Here we go again."

Scott Morgan on "Czar Wars," "Australia: Better Bud Prompts Proposed Bong Ban," "Narc Team Rams Suspect's House With Vehicle, Finds Marijuana," "If Only Afghanistan Were More Like Colombia…" (title is sarcastic), "God Declares War On Drugs," "Marijuana Now Causes Homosexual Incest. That's What They're Saying," and "USA Today Takes Firm Stance on Student Drug Testing: Neutral."

Special guest blogger Allan Clear, executive director of the Harm Reduction Coalition, reports from the 18th International Conference on the Reduction of Drug Related Harm in Warsaw.

Over in the Reader Blogs, drug war victim Dale Kent has decided to fight the rap and to speak out; and long-time activist Carl Olsen posts a sadly typical letter he received from Sen. Tom Harkin and his response.
David Guard has been busy too, posting a plethora of press releases, action alerts, job listings and other interesting items reposted from many allied organizations around the world in our "In the Trenches" activist feed. DRCNet's Reader Blogs have been going too -- we invite you to join them and become an author in the DRCNet community too. And we urge you to comment on any or all of the above.
Thanks for reading, and writing...