Update to original offer: Trebach has agreed to sign all copies of his books that you get from DRCNet! Also, add just $22 or more to your donation to get a copy of Lies, Damn Lies, and Drug War Statistics too! (Make a note in the comment box to let us know you're requesting this.)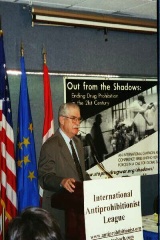 We are pleased to announce that our latest premium book offer for members is the "Trebach Trilogy" -- two re-released classics by Arnold Trebach -- a long-time friend of DRCNet, founder of the Drug Policy Foundation and known to reform cognoscenti as the father of the modern drug policy reform movement -- and one newly-minted volume:
The Heroin Solution: "A blockbuster," says Publishers Weekly. "Eloquent and persuasive," according to The New York Times.
The Great Drug War, and Rational Proposals to Turn the Tide: Two decades ago, in what was a heartfelt indictment of the Reagan-era war on drugs, Trebach identified and brought to vivid life all sorts of abuses derived from the effort to enforce drug prohibition and began to elaborate a strategy for escaping from drug war and achieving "drug peace." (Drug War Chronicle)
Fatal Distraction: The War on Drugs in the Age of Islamic Terror: [T]he distillation of a life's work in the trenches of drug law reform... a book grizzled reformers and bright-eyed newcomers to the cause alike will want to read and absorb. (Drug War Chronicle)
Please help DRCNet's work with a generous donation. If your donation is $35 or more, we'll send you a complimentary copy of any one of the Trebach books -- or donate $65 or more and choose two, or $90 or more for all three.
Your donation will help DRCNet as we advance what we think is an incredible two-year plan to substantially advance drug policy reform and the cause of ending prohibition globally and in the US. Please make a generous donation today to help the cause! I know you will feel the money was well spent after you see what DRCNet has in store. Our online donation form lets you donate by credit card, by PayPal, or to print out a form to send with your check or money order by mail. Please note that contributions to the Drug Reform Coordination Network, our lobbying entity, are not tax-deductible. Tax-deductible donations can be made to DRCNet Foundation, our educational wing. (Choosing gift items will reduce the portion of your donation that you can deduct by the retail cost of the item.) Both groups receive member mail at: DRCNet, P.O. Box 18402, Washington, DC 20036.
Read Chronicle editor Phil Smith's review of The Great Drug War here, and Phil's review of Fatal Distraction here, and Phil's review of The Heroin Solution here.