Israel's Green Leaf Party, the country's leading marijuana reform advocacy organization, warned Wednesday that marijuana is not kosher for Passover. Jews who observe the week-long holiday's dietary laws should lay off the weed, the group said.
According to Green Leaf, rabbis have grouped marijuana products along with a family of foods including peas, beans, and lentils that are forbidden to observant Jews during Passover according to the European tradition of rabbinic interpretation. Passover begins on Monday.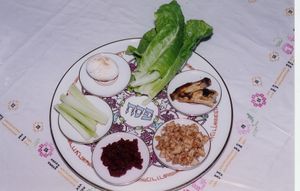 "We are warning our people not to eat anything with hemp products if they follow the practice of kitniyot on Pesach," said party spokesperson Michelle Levine. "We are considering announcing a ban on everything containing hemp just to be on the safe side. We are going with the rabbis on this. People should remove all cannabis and hemp from their homes."
The Orthodox Anarchist blog disagreed, calling the rulings relating to separation of grains outdated and urging Ale Yarok to instead focus on highlighting halakhic (Jewish religious statutory interpretation) moral arguments such as those supporting medical marijuana or the Orthodox Union's support for religious ayahuasca use rights.
There is an upside to the rabbinical ban during Passover, said Levine. "Logic dictates that if the rabbis say cannabis is non-kosher for Passover, it is apparently kosher during the rest of the year."