The United States Supreme Court Monday heard oral arguments in a case that will determine how much free speech public school students are allowed. On one side is the Juneau, Alaska, school district, national school board associations, former special prosecutor Kenneth Starr and the US government. On the other side is former Juneau student Joseph Frederick, the ACLU, the drug reform organization Students for Sensible Drug Policy, and a variety of liberal and conservative organizations concerned about restricting the rights of students to voice opinions at odds with school policies.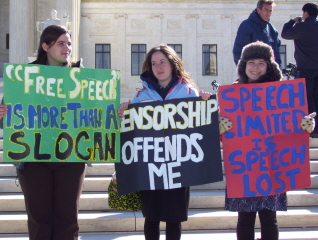 Back in 2002, the Juneau high school let students out of school to watch an Olympic parade pass by. Frederick led a group of students who hoisted a large, nonsensical banner reading "Bong Hits 4 Jesus" as the parade passed by. School Principal Deborah Morse tore down the banner and suspended Frederick for 10 days, saying that the banner violated the school's anti-drug policy. Frederick sued, arguing the school's decision violated his First Amendment rights and seeking monetary damages from Morse. He lost in US district court but won on appeal in the US 9th Circuit. With pro bono assistance from Starr, the school district appealed to the Supreme Court.
While on the surface, the case is about a silly banner that may or may not have promoted drug use, it cuts to the heart of the ongoing dispute over the extent of student free speech rights in schools. The high court ruled in a 1969 case, Tinker v. Des Moines School District, that students wearing black arm bands to protest the Vietnam War were protected by the First Amendment, but two later cases have carved out limited exceptions. The current case, Frederick v. Morse, will determine whether the high court is willing to carve out a drug war exception as well.
SSDP was among a number of groups that filed friend of the court briefs supporting Frederick. In a curious alliance that transcended the normal left-right distinction in American politics, those groups included the ACLU and the gay rights Lambda Legal Defense Fund, as well as conservative groups backing religious freedom, such as the Rutherford Institute and the Alliance Defense Fund, who worried that schools would attempt to crack down on religious free speech.
"This is an extremely important case," said SSDP executive director Kris Krane. "What the government and the school district are arguing for is the right of school administrators to punish students who say anything that may be interpreted as expressing a positive sentiment about drugs," he told Drug War Chronicle. "If a student writes a paper about grandma using medical marijuana to successfully ease her pain, that student could be punished. If students were to talk about how random school drug testing policies are ineffective or to question the effectiveness of DARE, they could be punished for that speech."
Oral arguments Monday were lively, with justices subjecting both Starr and Frederick's attorney, Douglas Mertz, to tough questioning. Starr argued that public schools should be able to ban signs, buttons, or speech that conflicts with their anti-drug policies. "Illegal drugs and the glorification of the drug culture are profoundly serious problems for our nation," Starr said as he argued that Frederick's message promoted drugs and was "utterly inconsistent" with the basic educational mission of the school.
That provoked Chief Justice John Roberts to worry about how far such an argument could be carried. "The problem is that school boards these days take it upon themselves to broaden their mission well beyond illegal substances," he said.
But on the whole, it appeared Roberts was sympathetic to Starr's argument. "Why is it that the classroom ought to be a forum for political debate simply because the students want to put that on their agenda?" he asked Starr.
With the question coming just after Starr conceded that Tinker "articulates a baseline of political speech" that students have a right to engage in, Roberts' question suggested the chief justice thought Tinker went too far. "Presumably, the teacher's agenda is a little bit different and includes things like teaching Shakespeare or the Pythagorean theorem," he said, adding that "just because political speech is on the student's agenda, I'm not sure that it makes sense to read Tinker so broadly as to include protection of that speech."
Justice Joseph Alito, on the other hand, seemed much more skeptical of the government's case. When deputy solicitor general Edwin Kneedler argued that a school "does not have to tolerate a message that is inconsistent" with its educational mission, Alito objected.
"I find that a very, very disturbing argument," Alito responded, "because schools have defined their educational mission so broadly that they can suppress all sorts of political speech and speech expressing fundamental values of the students under the banner of getting rid of speech that's inconsistent with educational missions."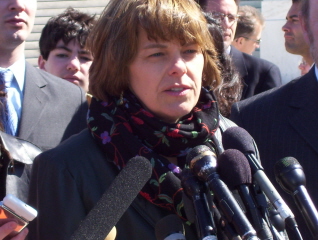 Starr attempted to address such concerns by arguing for a drug exception to the First Amendment. "The court does not need to go more broadly" than the drug issue, he said. Starr also argued that the banner was "disruptive" of the school's mission. Under the Tinker precedent, speech that is disruptive can be restricted.
But Justice David Souter questioned Starr's argument. "I can understand if they unfurled the banner in a classroom that it would be disruptive," Souter said, "but what did it disrupt on the sidewalk?... It sounds like just a kid's provocative statement to me."
Justice Anthony Kennedy, who is often a swing vote on the high court, showed much more sympathy for schools' efforts to counter drug use, arguing that Frederick's banner was disruptive. "It was completely disruptive of the message the school wanted to promote and completely disruptive of the school's image that they wanted to portray in sponsoring the Olympics," he said.
When his turn came, Frederick's attorney Douglas Mertz argued that the case is much broader than drugs. "This is a case about free speech. It is not a case about drugs," he said.
"It's a case about money," Chief Justice Roberts interrupted, making reference to school principal Morse's personal liability for monetary damages.
Justice Antonin Scalia sneered at Mertz's argument. "This is a very, very -- with all due respect -- ridiculous line. Where do you get that line from?" For Scalia, even Starr's argument that schools can suppress speech contrary to their educational missions didn't go far enough. "Any school," he proposed, "can suppress speech that advocates violation of the law."
Not all the action at the Supreme Court Monday went on inside. SSDP led a demonstration by students and supporters outside the court that was shown on every cable news network and almost every major newspaper in the country that covered the story -- and most did -- ran photos of the protesters with their stories.
"We flew in high school students from around the country, including two from South Dakota who had been suspended for wearing t-shirts supporting last year's medical marijuana initiatives, in order to demonstrate support for student free speech rights concerning drug policy issues," said SSDP's Krane. "In addition to these students and our local contacts, a number of high schoolers visiting the Supreme Court on field trips joined in the demonstration with us," Krane added.
"We were trying to move the focus from the silly 'Bong Hits' banner to this being a free speech issue," said SSDP's Krane. "We made a large banner that said 'Free Speech 4 Students' and we had students holding up posters saying the same thing. To the extent that the media focused on us, we succeeded better than we had ever imagined."
Eric Sterling, president of the Criminal Justice Policy Foundation and a member of SSDP's board of directors, told the San Francisco Chronicle's Debra Saunders in a column published Tuesday he believed the Court would "both uphold and reverse" the Ninth Circuit ruling by finding that the suspension violated Frederick's rights but that Morse could not be held personally liable.
An opinion in the case is expected in June.
(Visit our post-rally blog post to see more pictures from the event.)