The 9th US Circuit Court of Appeals Wednesday ruled that Angel Raich, an Oakland woman whose doctor says marijuana is keeping her alive, can still be prosecuted on federal drug charges. Raich and her attorneys had argued that the desperately ill have the right to use marijuana to keep themselves alive when all other drugs fail.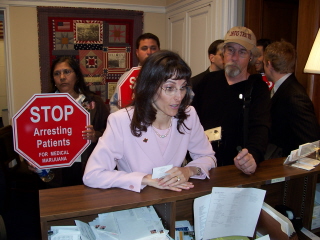 Raich is the woman who went all the way to the Supreme Court seeking protection for medical marijuana patients in states where it is legal. But she lost in a 2005 decision when the court held that patients and their providers could indeed be prosecuted under federal law even if their states had legalized it.
Raich suffers from a brain tumor, scoliosis, chronic nausea, and a number of other medical conditions. She uses marijuana every couple of hours to gain appetite and suppress pain on her doctor's recommendation.
The ruling does not mean Raich will be prosecuted. She filed the lawsuit preemptively, in an effort to avoid any possible future arrest. Because Raich's doctors believe medical marijuana is essential to her survival, she argued that for the government to deprive her of her medicine would violate the Fifth Amendment to the US Constitution, which states that no person may be "deprived of life... without due process of law."
But in its opinion this week the three-judge appeals court panel ruled that the United States is not yet at the point where "the right to use medical marijuana is 'fundamental' and 'implicit in the concept of ordered liberty.'" The court did suggest, however, that if Raich were ever arrested, she could seek to mount a "medical necessity" defense.
"The court has just sentenced me to death," Angel Raich said in a written statement. "My doctors agree that medical cannabis is essential to my very survival, and the government did not even contest the medical evidence. Every American should be frightened by this ruling. If we don't have a right to live, what do we have left?"
"Today's decision marks a disappointing setback for rational medical policy as well as fundamental constitutional rights in America," said Robert Raich, attorney for the plaintiff. "We may ask the Supreme Court to review the case, and may ask the district court to review issues that the Ninth Circuit left unresolved."
"Today's ruling is shocking, but it's not the end of the struggle," said Rob Kampia, executive director of the Marijuana Policy Project. "Last June, legislation to end the federal government's war on medical marijuana in the 11 states where medical marijuana is legal received a record number of votes in the US House of Representatives, and support has grown this year. This is literally a matter of life and death for Angel and thousands of other patients, and we will keep fighting on both the legal and political fronts until every patient is safe."