The number of people behind bars in the United States reached a new all-time high last year, with some 2.24 million people in jail or prison at mid-year. The imprisoned population jumped by 62,000 people or 2.8%, the largest increase since 2000.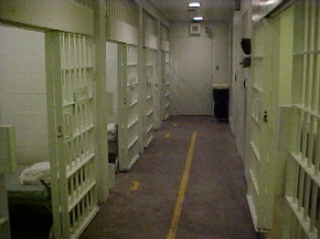 The figures come from the Justice Department's Bureau of Justice Statistics (BJS)
annual report on mid-year imprisonment numbers
. One of every 133 Americans was behind bars on June 30, 2006, BJS reported.
America's title as the world's number one jailer -- with 5% of the global population, the US has 25% of the prisoners -- once again remains unchallenged, leaving contenders like Russia and China in the dust. Roughly 500,000 of the more than 2.2 million people imprisoned in the US are doing time for drug offenses, a number that goes even higher when the number of people imprisoned as parole or probation violators for using drugs is factored in.
The new numbers elicited a blast at the special interests who benefit from mass incarceration by Ethan Nadelmann, head of the Drug Policy Alliance. "Two powerful forces are at play today," said Nadelmann. "On the one hand, public opinion strongly supports alternatives to incarceration for nonviolent, and especially low-level, drug law violators – and state legislatures around the country are beginning to follow suit. On the other hand, the prison industrial complex has become a powerful force in American society, able to make the most of the political inertia that sustains knee-jerk lock-'em-up policies."
If the BJS figures are any indicator, lock-'em-up policies are still in vogue. Forty-two states and the federal system reported an increase in prison populations last year, with only eight reporting declines. More than 1.5 million people are now in state or federal prison, with an additional 700,000 in jail.
Most of the growth in the imprisoned population came in the state and federal prison systems, with the jail population increasing at a rate of 2.5%, the lowest increase since 2001. The federal prison population grew by 3.6% to 191,000 June 30, a figure that had increased to 199,000 this week. Nearly 55% of all federal prisoners are drug offenders.
In state prisons, the increase was largely due to a rise in prison admissions, up 17% since 2000. About one-quarter of state prisoners are serving time for drug offenses.
Racial minorities continue to take the brunt of both the drug war and the resort to mass incarceration in general. Black men comprised 37% of the imprisoned population, being locked up at a rate (4.8%) more than twice that of Hispanic males (1.9%) and nearly seven times that of white males (0.7%). Among black men between ages 25 and 34, a whopping 11% were behind bars.