As our latest membership premium, DRCNet is now offering: "Beat the Heat: How to Handle Encounters with Law Enforcement." Though not hot-off-the-press, this 2003 publication by attorney Katya Komisaruk is, according to Drug War Chronicle editor Phillip S. Smith, "the best legal self defense book we've seen in some time." It's sad that such a book would be so desperately needed, but in this nation with drastically eroded constitutional rights and draconian mandatory minimum sentences for minor drug offenders, "Beat the Heat" provides an important public service. Donate $32 or more to DRCNet, and you can receive a complimentary copy of "Beat the Heat" as our thanks.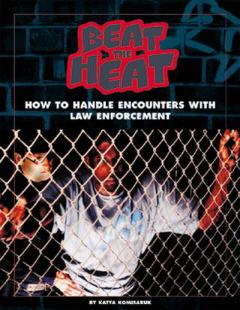 According to Phil:
"A valuable portion of 'Beat the Heat' is devoted to explaining just how police get people to waive their rights -- intimidation, false friendliness, lies -- and how to avoid falling into those traps... It's also a primer for those who have been arrested... Komarisuk covers it all, from getting out on bail to working with your lawyer to what to do if all else has failed and you're headed for prison. There's also a chapter on how to witness and accurately report police misconduct, as well as chapters on the legal rights of minors and non-citizens."
While it's sad that such a book would be needed, in this nation with curtailed constitutional liberties, mandatory minimum sentencing for first-time drug offenders and record incarceration rates, it is.
We continue to offer the similarly-spirited Flex Your Rights "Got a Warrant?" and "I Don't Consent to Searches" 4th amendment t-shirts (donate $30 or more) and DVD "BUSTED: The Citizen's Guide to Surviving Police Encounters" (donate $25 or more), and many other premiums that are listed on our donation web page -- subtract $5 from the cost of the t-shirts or Busted to add them to your book order -- visit http://stopthedrugwar.org/donate to donate today. (Use the comment box at the bottom of the page to indicate any multiple or special orders that don't appear in the gift selection drop-down menu.)
Your donation will help DRCNet as we advance what we think is an incredible two-year plan to substantially advance drug policy reform and the cause of ending prohibition globally and in the US. Please make a generous donation today to help the cause! I know you will feel the money was well spent after you see what DRCNet has in store. Our online donation form lets you donate by credit card, by PayPal, or to print out a form to send with your check or money order by mail.
Please note that contributions to the Drug Reform Coordination Network, our lobbying entity, are not tax-deductible. Tax-deductible donations can be made to DRCNet Foundation, our educational wing. (Choosing one or more gifts will reduce the portion of your donation that you can deduct by the retail cost of the item.) Both groups receive member mail at: DRCNet, P.O. Box 18402, Washington, DC 20036.
Thank you for your support, and hope to hear from you soon.
Sincerely,


David Borden
Executive Director