With spates of murders early this year in Newark and New Orleans bringing public concerns about rising violent crime rates in both cities to the boiling point, officials in both are calling in reinforcements. But the responses by city and law enforcement officials in both cases are essentially more of the same old approach to the intertwined problems of urban poverty, crime and violence, and the drug trade under prohibition. And if Thursday's noisy mass march in New Orleans is any indication, maybe some citizens are beginning to say enough is enough.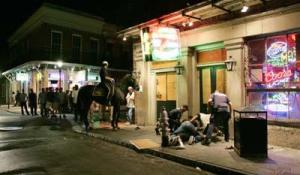 In Newark, Mayor Cory Booker and his police director announced Monday they would try to attack the city's rising homicide rate by forming a new central narcotics division. With five killing already this year, all drug-related according to city officials, the city is on track to exceed last year's 104 murders, the most in a decade.
"It's clear we have a problem," Booker said as he announced the program. "This last seven days -- we cannot avoid it, we cannot apologize for it." His audience at the unveiling included high-ranking police officers, members of the Central Narcotics Division (as the new unit is called), and the local head of the Drug Enforcement Administration.
"The bottom line is this: If we're going to reduce violence in this city, we have to affect the narcotics trade," said the police director, Garry McCarthy. In prose eerily reminiscent of President Bush's Wednesday speech on Iraq, McCarthy talked of a "ground war" to clear out drug dealers and related crime from city neighborhoods and keep them out. "It's important that we go and get the bad guys before they kill each other, and hurt other people in this city," Mr. McCarthy said.
Meanwhile, New Orleans, confronted by nine murders in the first eight days of this year, announced a crackdown on violent crime. "We are drawing a line in the sand, saying enough is enough," Nagin said Tuesday. "We're going to put all our resources to focus on murder and violent crime." Nagin's plan includes targeting violent crime by operating police checkpoints between 2:00am and 6:00am, when about one-third of the city's violent crime occurs. Despite a 2000 Supreme Court decision ruling unconstitutional checkpoints whose purpose is law enforcement rather than public safety (e.g. drivers license checks, sobriety checks), New Orleans officials have openly stated they will use the checkpoints to search for drug and alcohol violations as well as drivers license and insurance checks.
The city's criminal justice system overall remains broken down in the aftermath of Katrina, with jails overflowing and the courts backed up and still handling pre-Katrina cases. Since the storm, the New Orleans Police Department has shrunk from 1,700 to 1,400, but crime has been on the rise despite a city population that has shrunk from 455,000 before the storm to 200,000 now.
Today, some 3,000 New Orleans residents took their festering dissatisfaction with both the police and the criminals to the streets. "Dirty Cops Can't Clean Up Our City," read one placard.
The city is already being patrolled by some 300 National Guard troops and 60 state police. They came in last summer after five teenagers were killed in one night. Gov. Kathleen Blanco was reportedly in meetings Wednesday with National Guard and state police officials to discuss the situation.
The situation is as bizarre, if not quite as dangerous, across the river in Gretna. There, in suburban Jefferson Parish, Sheriff Harry Lee attributes a slowdown in killings there to his force's use of armored vehicles. "We have the money and we're going to spend it on the things that will help us fight this problem," Lee said Wednesday at a news conference in Gretna. He is also starting up a unit known for aggressive street sweeps that he had to disband in 2004 after allegations of steroid use and other offenses by its officers.
Armored vehicles, checkpoints, ground war, "clear and hold." Which war is this again?