Last Saturday night, Tennessee Highway Patrol Trooper Calvin Jenks, part of the self-described "wolf pack" of troopers who prowl the highways looking for drug traffickers, found what he was looking for. But when he pulled over a vehicle with Texas plates late that night, its occupants shot him dead. When they were arrested soon after, police indeed described them as drug runners. Trooper Jencks thus became yet another law enforcement casualty of the drug war.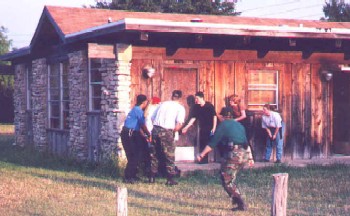 That is not a surprise, right? Waging the war on drugs is dangerous and requires heroic sacrifices as police routinely go up against deadly drug dealers and deranged drug users. At least that's the official line, routinely promulgated by law enforcement officials who speak of lethal cartels and dealers using high-powered weapons. It is a notion reinforced by countless TV programs that glorify police as "the thin blue line" that, at great personal risk, protects us from those druggies. Indeed, the brave officer fighting the drug war is an essential part of the worshipful mystique that surrounds the men and women in blue.
It turns out that while enforcing drug laws is not exactly safe, statistically it's not especially dangerous either. According to Drug War Chronicle research based on reports at Officer.Com, which compiles a list of all line of duty police deaths nationwide based on press reports and reports from the National Law Enforcement Officers Memorial Fund (NLEOMF), despite making nearly two million drug arrests last year, only four American police officers were killed enforcing the drug laws, and in only two of those cases was drug law enforcement the direct cause of death. One undercover officer was killed making a drug buy, one officer was killed serving a drug arrest warrant, one highway patrolman died in a crash on the way to a drug bust, and one officer was killed when he intervened in a clash between rival drug gangs.
Here's the complete list:
In March, Sgt. Jeremy Newchurch of Louisiana's Assumption Parish Sheriff's Office was shot and killed in a struggle with a suspect while serving felony drug warrants.
In May, Texas Department of Public Safety Trooper Eduardo Chavez was killed in a single-vehicle traffic accident while racing to the scene of a drug bust west of Sullivan City.
In August, Beckley, West Virginia, Police Detective Cpl. Charles Smith, 29, was shot and killed while making an undercover drug buy.
In December, Puerto Rico Police Department Agent Juan Jose Burgo-Velez, 36, was shot and killed when he and other officers intervened in a shoot-out between rival drug gangs.
The number of officers killed in the drug war last year, is similar to, although slightly lower, than in recent years. While the NLEOMF has not yet released official figures on drug enforcement-related officer deaths for last year, it has for previous years. Seven officers were killed in drug-related incidents in 2000, 13 in 2001, 2 in 2002, 13 in 2003, 14 in 2004, and 10 in 2005.
According to the NLEOMF, 151 law enforcement officers died in the line of duty last year, but more than half of them died from vehicle accidents (61) or job-related medical events such as heart attacks (18). One officer was stabbed to death, one was beaten to death and 54 were killed by gunfire. According to the Officer.Com compilation, more law enforcement officers were killed directing traffic than enforcing the drug laws.
Given that there are hundreds of thousands of law enforcement officers in the US, that's not a high mortality rate for policing as a profession. In fact, being a police officer doesn't even make the US Department of Labor's top-10 list of the most dangerous jobs. (For the curious, the most dangerous occupation is logger, followed in order by aircraft pilot, fisherman, steel worker, garbage man and recycler, farmer, roofer, power line worker, truck driver, and taxi driver.)
Given the low mortality rate for police in the drug war -- 4 deaths in 1.8 million arrests -- critics of heavy-handed drug law enforcement tactics, such as the reliance on paramilitarized SWAT-style teams serving drug search and arrest warrants, have even more reason to wonder if they're really necessary. According to some estimates cited in civil liberties policy analyst Radley Balko's Overkill: The Rise of Paramilitary Police Raids in America, as many as 40,000 SWAT raids, most of them for drugs, take place each year now.
"This suggests that drug offenders aren't the violent criminals police often make them out to be, particularly the low-level people these SWAT tactics are so often directed against," Balko told the Chronicle. "It also backs up studies that say weapons are rarely found, and when they are, they're not the sort of high-power, high-caliber weaponry the SWAT advocates always say they will find."
Ronald Sloan, director of the National Narcotics Officers' Associations Coalition, seemed bemused by the low police drug war fatalities numbers, but still defended aggressive police tactics. "My partner was killed in a drug raid," he told the Chronicle. "I was a narcotics officer for 20 years. It's the most dangerous work there is." As for the SWAT raids, said Sloan, "Those guys are trained for those situations. They're less likely to get shot than a bunch of narcs kicking in the door."
Jack Cole, executive director of Law Enforcement Against Prohibition, has long experience as a narc, too. "I worked 14 years undercover in narcotics," the former New Jersey narc told the Chronicle. "I wasn't worried much about somebody trying to kill me. Not the drug dealers; they're business people, they'd rather get away from the cop than shoot him, because they know then there would be a thousand more cops coming after him."
But it was another prohibition-engendered predator that gave Cole the willies doing undercover work. "The one group we were worried about was not the drug dealers, but the rip off artists who think they're stealing money from just a drug dealer, they shoot the guy and take the money. They don't even know you're a cop."
For Cole, the heavy reliance on SWAT-style raids is unnecessary and dangerous, at least for the civilians involved. "When you factor in the number of people killed in SWAT raids, they are way over the top," he said. "Like that 92-year-old lady in Atlanta, Kathryn Johnston. SWAT creates that sort of situation."
While there are no firm numbers on the number of people killed in police drug raids, Balko's "Overkill" lists dozens of incidents where civilians, some innocent, some guilty of a drug offense, were killed or wounded, and more where police shot the dog. The same report also lists incidents where police officers died in drug raids. While, as we have seen, the number of police killed in the drug war is low, the raids do kill them sometimes, too.
It seems that in the drug war at least, the police are pretty good at protecting themselves. Now the question is who will protect us from them?