Colorado marijuana activist Ken Gorman, 59, was shot and killed in his Denver home Saturday night in an apparent home invasion robbery. The killing came just days after local TV station CBS4 aired a report on him that included shots of marijuana plants growing inside his home. Gorman grew the plants legally as a registered medical marijuana patient, but in the report, Gorman was seen advising avowed non-medicinal marijuana users how to use the medical marijuana laws to be able to possess the plant with impunity. As of Thursday, no arrests had been made and police said they were still investigating.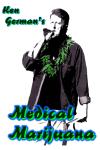 Gorman was one of the most well-known faces in the Colorado marijuana and medical marijuana scene. He was also a member of DRCNet. Gorman had organized several smoke-ins at the state capitol, as well as giving numerous lectures and making public appearances supporting the medical and recreational use of marijuana. He also ran for governor on a pro-marijuana platform.
According to witness accounts, three masked men entered Gorman's home with guns drawn Saturday evening. Shots were fired, police were called, and they found him lying on his living room floor with a gunshot wound to the chest. He was pronounced dead shortly after.
While Denver police refused to speculate on whether the killing was related to Gorman's legal medical marijuana grow, fellow activists had little doubt that he died in an attempted robbery. "It's pretty amazing that this guy worked his entire life trying to make marijuana legal and in the end, the fact that marijuana is illegal is what led to his death," Mason Tvert, executive director of SAFER, an organization dedicated to legalizing small amounts of recreational marijuana, told the Denver Daily News. "It's safe to say that if marijuana were legal Ken would not have been killed," Tvert said. "I think it's a violent incident highlighting what happens when marijuana is kept illegal."
Gorman himself had told CBS4 just a few weeks ago that he feared being robbed because of his openness about his marijuana operation. "I mean, I've had a gun stuck to my head, people stabbed in my house from people trying to get my marijuana," Gorman said on January 31. He added that his home had been burglarized 15 times.
Gorman will be missed. "I've been in patient meetings where patients stood, with tears in their eyes, and said, 'When no one would help me, Ken Gorman would,'" said Brian Vicente, executive director of Sensible Colorado, a nonprofit organization that advocates for drug policy reform in Colorado. "You don't hear that, that often," Vicente told the Daily News. "He was a character."