Texas Republican Congressman Ron Paul has filed a bill that would legalize hemp farming in the United States. This marks the second time Rep. Paul has filed this bill, but it went nowhere in the last Congress. The bill, HR 1009, would allow domestic hemp manufacturers to buy their hemp from American producers. Currently, US law bars the production of industrial hemp, and American manufacturers have to import their hemp from other countries.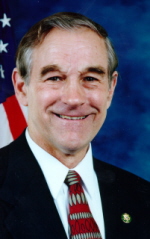 This time around, Rep. Paul has nine cosponsors, all Democrats. They are Representatives Tammy Baldwin (D-WI), Barney Frank (D-MA), Raul Grijalva (D-AZ), Maurice Hinchey (D-NY), Dennis Kucinich (D-OH), Jim McDermott (D-WA), George Miller (D-CA), Pete Stark (D-CA) and Lynn Woolsey (D-CA).
"It is indefensible that the United States government prevents American farmers from growing this crop. The prohibition subsidizes farmers in countries from Canada to Romania by eliminating American competition and encourages jobs in industries such as food, auto parts and clothing that utilize industrial hemp to be located overseas instead of in the United States," said Rep. Paul. "By passing the Industrial Hemp Farming Act, the House of Representatives can help American farmers and reduce the trade deficit -- all without spending a single taxpayer dollar."
Hemp food manufacturers such as French Meadow Bakery, Hempzels, Living Harvest, Nature's Path and Nutiva now make their products from Canadian hemp. "Under the current national drug control policy, industrial hemp can be imported, but it can't be grown by American farmers," says Eric Steenstra, President of Vote Hemp. "The DEA has taken the Controlled Substances Act's antiquated definition of marijuana out of context and used it as an excuse to ban industrial hemp farming. The Industrial Hemp Farming Act of 2007 will bring us back to more rational times when the government regulated marijuana, but told farmers they could go ahead and continue raising hemp just as they always had," said Steenstra.

The introduction of the hemp bill comes just days after North Dakota issued the first state licenses for farmers to grow hemp. But North Dakota hemp farmers must still win approval from the DEA, something that is unlikely to occur under the current law. North Dakota isn't alone. Some 14 other states have passed pro-hemp measures and seven have passed bills that remove barriers to its production or research.