Judges in Chicago's main Criminal Court Building at 26th and California hear some 28,000 felony cases a year, with each judge hearing about 800, or about four per judge per work day. Nonviolent, drug-related charges make up more than half of them, according to a report recently released by the Chicago Appleseed Fund for Social Justice, a research and advocacy organization focused on social justice and governmental effectiveness, especially regarding the criminal justice system. The clogging of the courts with low-level drug offenders is a major factor in a gravely dysfunctional criminal justice system, the report concludes.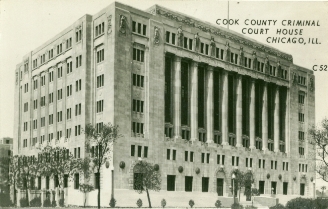 Based on more than 100 interviews with criminal justice system professionals, more than 160 hours of courtroom observation of more than 500 proceedings, interviews with victims, defendants, witnesses, and family members, and surveys of judges, prosecutors, and public defenders,
A Report on Chicago's Felony Courts
is a thorough, comprehensive, and eye-opening look at the way justice is served in one of the nation's largest cities.
"The sheer volume of cases in Chicago's felony courts overwhelms the judges,
prosecutors, and public defenders," the report notes in the first sentence of its executive summary. After enumerating the dimensions of the crisis, the report's authors go on to make a series of findings and recommendations aimed at everyone from the state legislature (it "has overburdened the criminal courts by passing criminal laws without regard to cost, impact, or resources" and should quit doing so) to the Cook County Board (quit using the courts for patronage, provide them with sufficient resources) to the 26th Street court administrators (increase professionalism, improve facilities).
But the bulk of the report's recommendations are devoted to dealing with nonviolent drug offenders. As the authors noted in describing the problem: "Non-violent, drug-related charges make up more than half of the cases. When asked to identify changes they would like to see in the criminal justice system, more than a third of the professionals focused on drug cases. There was nearly unanimous frustration: 'Drug cases have crippled the system,' said one prosecutor. Another prosecutor said: 'We've become a factory mill, just concerned with the disposition of the case. There's not enough consideration of if the person needs prison time or needs an extra attempt at rehabilitation.' The volume of drug prosecutions is dealt with through assembly-line plea bargaining. There is a feeling of grim reality among courtroom professionals about the system's inability to rehabilitate addicts, but there is no consensus about how to deal with drug abuse. Many judges believe that the existing alternative treatment programs are ineffective. Another prosecutor said that the system 'has no choice' but to ship offenders to prison.
"Because of the restricted sentencing options," the authors continued, "prosecutors and judges try to avoid treating these drug cases as felonies, especially for first-time offenders. 'People charged with small amounts of possession usually are dismissed because of the number of cases,' notes one prosecutor, 'and those are the cases that should be getting treatment alternatives.' There is also a strong incentive for defendants to plead guilty to drug charges to avoid harsh minimum sentences. Even though reduced charges in drug cases may allow for probation instead of jail
time, many offenders fail probation because the system does not provide the supervision and rehabilitation needed to return them to productive society. One former probation officer told us, 'adult probation that provides only one unsupervised check-in is useless as a way to give real services.' Judges vary as to whether they enforce the conditions of probation. Probation cannot work without a well-funded, consistently applied program."
Noting that many drug offenders can be rehabilitated and arguing that their potential value as productive members of society merits more flexibility, the report made the following recommendations:
Increase funding for and oversight of the probation system.
Expand the use of private, community-based organizations for supervised, rehabilitative probation.
Redefine young, nonviolent offenders as a "post juvenile" category of defendants.
Expunge criminal record after successful completion of probation.
Create up to four new drug courts with a focus on diversion/treatment programs.
Facilities are needed with courtrooms dedicated exclusively to narcotics cases in which the defendants are eligible for diversion and cases involving mental health issues.
Create, through legislation, a station adjustment model for dealing with possession of small amounts of controlled substances. [Editor's Note: A "station adjustment" allows police to handle a matter without involving the court system, i.e. with a warning or a referral to a treatment program.]
The drug school concept, operated on a deferred prosecution basis by the State's Attorney's Office, should be expanded. The Juvenile Drug School Program, eliminated due to budget constraints, should be re-established.
Increase training for defense counsel, prosecutors, and judges about the availability of diversion and treatment programs.
In creating legislation, attention should be paid to replacing mandatory minimum jail sentences with treatment and rehabilitation alternatives.
Chicago area judges, politicians, and legislators have expressed interest in the report and its findings. Whether that interest holds past the next news cycle remains to be seen. In the meantime, the wheels of justice grind on in the City of Big Shoulders, but just barely.