The latest annual Monitoring the Future survey of teen drug use was released Tuesday. It showed a continuing gradual decline in overall teen drug use, thanks largely to reduced marijuana and methamphetamine use rates, but a rebound in ecstasy use and increasing popularity of prescription pain relievers. While the White House and the Office of National Drug Control Policy (ONDCP) lauded the findings as validating their anti-drug strategy, that position had plenty of critics.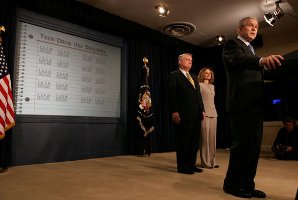 The MTF survey, now in its 33rd year, is conducted by the University of Michigan's Institute for Social Research. It surveys 50,000 8th-, 10th-, and 12th-graders nationwide.
According to the survey, the proportion of 8th graders using any illicit drug at least once in the past year was 13.2%, down from 14.8% in 2006. Tenth- and 12th-graders reported annual prevalence rates of 28.1% and 35.9%, respectively, both down less than one percentage point from the previous year. Only the reported decrease among 8th-graders was statistically significant.
Among the drugs whose use decreased in the past year were marijuana, amphetamines, methamphetamines, Ritalin, and what MTF referred to as "crystal methamphetamine," or smokable meth, or ice. Pot remains the most popular of all illicit drugs, used within the past year by 10% of 8th-graders, 25% of 10th-graders, and 32% of 12th-graders, but its use among 8th-graders declined a statistically significant 1.4% compared to 2006. Tenth-graders showed a tiny decline, while use remained steady among 12th-graders.
According to MTF, amphetamine use peaked in the mid-1990s and has declined steadily ever since, while crystal meth reached its lowest use levels since 1992 this year. Eight percent of seniors reported using amphetamines in 2007, while 1.6% reported using crystal. Ritalin, a prescription amphetamine used to treat Attention Deficit Hyperactivity Disorder, has seen its use decline gradually since first being measured in 2001. This year, between 2% and 4% of students surveyed reported using it outside medical supervision. Methamphetamine use also continues a slow decline, dropping by about two-thirds in all grades since it was first measured in 1999. Less than 2% of students reported using meth in the past year.
"Because this drug has such great potential for abuse and dependence, we are encouraged to see its popularity wane among teenagers," Johnston said.
But while pot and amphetamine use were down, a number of other drugs held steady, including cocaine, crack cocaine, LSD, other hallucinogens, heroin, other narcotics, Oxycontin specifically, Vicodin specifically, sedatives, and tranquilizers. Fewer than 5% of seniors reported using cocaine or psychedelics, fewer than 2% reported using crack or LSD, and fewer than 1% reported using heroin.
Some 6% of seniors reported using sedatives, and the same number reported using tranquilizers, while 9% reported using narcotics other than heroin. Five percent used Oxycontin, a slight, but statistically insignificant increase since it was first measured in 2002, and 10% of seniors reported using Vicodin. For most of these drugs, use levels are hovering at or near recent peaks.
The one drug showing an increase in use is ecstasy, with 4.5% of seniors reporting using it this year, up from 4.1% last year. But that is still only half the use level reported in 2001, the highest year since reporting started on the drug in 1995.
"These prevalence rates are not very high yet but there is evidence here of this drug beginning to make a comeback," Johnston said. "Young people are coming to see its use as less dangerous than did their predecessors as recently as 2004, and that is a warning signal that the increase in use may continue."
MTF and the Bush administration repeatedly compared this year's figures to those in 1996, when teen drug use was at a recent peak. That made for some impressive claims, such as MTF's that annual prevalence among 8th-graders "was 24% in 1996 but has fallen to 13% by 2007, a drop of nearly half." But the figures are much less impressive when compared to 1991, the first year listed in the MTF survey tables. For all three grades, drug use levels were higher this year than then.
Still, MTF, the president, and his drug czar all saw the glass half full. "The cumulative declines since recent peak levels of drug involvement in the mid-1990s are quite substantial, especially among the youngest students," said University of Michigan Distinguished Research Scientist Lloyd Johnston, the principal investigator of the MTF study.
"The most encouraging statistic relates to the use of methamphetamine, which has plummeted by an impressive 64 percent since 2001," President Bush said. "One exception to this trend is a rise in the abuse of certain prescription painkillers," he added. "This is troubling, and we're going to continue to confront the challenge, and the overall direction is hopeful."
Walters and ONDCP also put the best face possible on the numbers. The agency's web site now boasts a web page touting the findings as vindicating the anti-drug strategy and featuring a series of charts showing drug use declines.
But there were plenty of skeptics. "While it is certainly good news that teen use of illegal drugs appears to be falling, almost this entire decline is because fewer teens are using marijuana," said Bill Piper, director of national affairs for the Drug Policy Alliance. "Teen use of hard drugs like cocaine and heroin has remained steady, and illegal use of many prescription drugs is increasing. The Bush Administration needs to look at the whole picture of students' behaviors and advance pragmatic strategies that hold the health, safety and well being of young people as the bottom line."
While drug use can be problematic, said Piper, responding to it with arrests is not the answer. "Drug abuse and the problems associated with drug addiction can be difficult to recover from but students may never recover from arrest and imprisonment for drug law violations, which generally mean the permanent loss of eligibility for federal student financial aid and serious impediments to employment. The number of people who use illegal drugs fluctuates from year to year, regardless of what the government does. What doesn't change is many Americans' lack of access to effective drug treatment."
The latest numbers reveal "disturbing trends," said the Marijuana Policy Project."This new survey documents the complete, utter failure of current government policies on marijuana," said Aaron Houston, the group's director of government relations, citing higher use levels for most drugs compared to 15 years ago.
Perhaps most disturbing, Houston noted, are misunderstandings regarding the dangers of drugs shown in this survey, particularly among the youngest teens surveyed. For example, 50.2% of 8th-graders saw "great risk" in smoking marijuana occasionally -- more than saw great risk in trying crack or powder cocaine, trying LSD, or in drinking nearly every day. Twelfth graders were more likely to disapprove of occasional marijuana use than of binge drinking (having five or more drinks at one sitting) once or twice every weekend.
"Drug czar John Walters touts minor, short-term improvements, but deliberately ignores the big picture," Houston said. "Over the long haul, teen drug use is up, not down. As a parent, I don't want any kids smoking marijuana. It's truly scary that the White House has convinced millions of teens that drugs that can literally kill them are safer than marijuana. We're pursuing policies whose costs will be paid in lives."
Appalachian State University criminal justice and criminology professor Matthew Robinson, coauthor of "Lies, Damned Lies, and Drug War Statistics," a work highly critical of ONDCP's manipulation of data, also had some choice words for the drug czar. "The recent claims by ONDCP with regard to the 2007 MTF study are misleading and do not tell the whole story about youth drug use in America," he said.
"First, ONDCP's online summary of the MTF features a very short-term focus from 2001 to 2007," Robinson noted. "As in its annual strategy reports, ONDCP downplays long-term drug use trends. In fact, the ONDCP website depicts only four figures, all showing declines. ONDCP does acknowledge increases in some drugs (e.g. Oxycontin), but it does not depict these increases in figures. Instead, as in its Strategy reports, ONDCP highlights drugs like meth and steroids," he said.
"Second, some of ONDCP's claims are misleading. For example, it says Ecstasy use is down 54% since 2001, when in reality it is essentially unchanged since 1996. Since Ecstasy use increased from 1998 to 2001, the long term trend is unchanged."
Even ONDCP's own materials show it is failing to accomplish its mission, Robinson noted. "ONDCP offers a slideshow on its website which summarizes some of the main findings from MTF. The slideshow proves that the drug war has not been effective at reducing drug use among young people over the long term. This is important because ONDCP's Performance Measures of Effectiveness demonstrate that ONDCP intends to consistently reduce drug use, something it has simply not done," he pointed out.
And while some drugs, such as LSD and marijuana showed decreases, Robinson said, more potentially harmful drug use is increasing. "The use of prescription drugs is consistently up among 12th-graders since 1991. While other drugs are down (e.g., LSD), this raises the possibility that young people have not stopped using drugs but rather have just switched to drugs that are lying around in their parents' homes. Ironically, these prescription drugs are more addictive and potentially dangerous to young people. "
Robinson also scolded ONDCP for taking credit even for reductions in alcohol and tobacco use, noting that the office claims its fight against illicit drugs causes such decreases. "Of course, ONDCP offers no evidence that reductions in alcohol use and tobacco use among young people have anything to do with the drug war, and that is because they don't have any," Robinson said. "In fact, the most consistent declines in drug use of all drugs depicted in the slideshow are for tobacco, a drug against which we are not waging a war; instead we are using honest educational campaigns combined with efforts to restrict legitimate businesses from selling tobacco products to kids. It is dishonest and wrong for ONDCP to take credit for these declines. "
The bottom line, said Robinson, is that after forty years of modern drug war, illicit drug use trends are virtually unchanged. "Drugs are just as available now as they were in 1992, in spite of increasing spending every year on the supply side portion of the drug war. In other words, this is just further proof that ONDCP is failing to meet its drug war goals of reducing use and availability of drugs," Robinson charged. "The president of the United States says the war on drugs is fought against an 'unrelenting evil that ruins families, endangers neighborhoods, and stalks our children.' If this is true, ONDCP's drug war is failing to keep this evil at bay. In spite of the spin, its own data prove it."
Come back the same time next year for the next episode of "Spinning MTF."