Cannabis Nation was on the march in Seattle last weekend. An estimated 150,000 people showed up Saturday and Sunday at Myrtle Edwards Park on Elliot Bay just north of downtown to celebrate the 16th annual Seattle Hempfest and call for marijuana legalization. Lauded by organizers as the world's largest drug reform protest rally or, as they like to put it, "protestival," once again, the Hempfest lived up to its advance billing.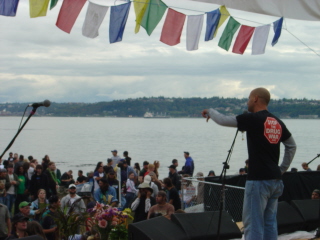 As usual, Hempfest was marked by peacefulness, a hefty dose of commerce, and the heady, sickly sweet smell of burning marijuana. Hundreds of vendors -- the vast majority of whom seemed to be peddling glass pipes, eight-foot bongs, and other smoking accoutrements -- did a brisk business, and thousands of celebrants toked up blissfully as Seattle police -- obeying a 2003 voter-installed city "lowest priority" ordinance -- looked on without acting.
Some 60 bands ranging from rock to reggae to hip-hop to punk, as well as a tent pumping out techno music, kept the sounds coming. Among the musical highlights were reggae veteran Pato Banton, whose "I Do Not Sniff the Coke (I Only Smoke Sinsemilla)" evoked huge roars of approval and Hempfest mainstays the Herbivores, whose "Losing Battle" ("You can throw us all in prison, but you can never win the fight") could well be the Hempfest anthem.
Between the people-watching -- oh! What a glorious parade of punks, Goths, aging hippies, junior hippies, suburban moms with strollers, Oregon pot fairies, men in skirts, and the simply indescribable -- the music, the pipe shopping, and the effort of moving among the masses, it was easy to miss the serious political message behind the event, but organizers made every effort to ensure that even the most apolitical stoner got a healthy dose of the reform message.
"Hempfest is all about promoting the freedom of choice and human rights," said head organizer the ubiquitous and tireless Vivian McPeak from the Main Stage during one of his countless mini-rants between acts. "Responsible, law-abiding adults should not be incarcerated for marijuana offenses," he reminded the audience.
McPeak was only the most visible (and audible) voice of Hempfest. An all-volunteer effort involving hundreds of people, Hempfest is a testament to the power of community organizing.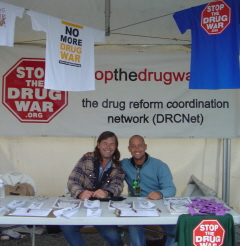 And while the Hempfest multitudes may have mostly been more interested in bong hits than politics, those who were there for something more than a party had plenty of opportunities to listen and learn. Dozens of drug reformers, from nationally known figures like Jack Herer, Ed Rosenthal, Rick Steves, and Keith Stroup, as well as lesser-known but equally impressive local activists, were on the
speakers' list
. While serious drug policy discussion was relegated to the Hemposium tent, where panel after panel met to argue different aspects of the marijuana laws, medical marijuana, and broader drug reform issues, drug reformers also graced all the stages in between musical acts.
Travel writer and TV travel program host Rick Steves addressed a huge crowd Sunday afternoon from the Main Stage. Having just returned from Europe, Steves told the crowd that most Europeans don't consider marijuana a big deal, and neither should Americans. Steves cited the Declaration of Independence, with its call for life, liberty, and the pursuit of happiness. "I think that's what America is about," he said.
An impassioned Debby Goldsberry of the Cannabis Action Network moved the crowd with her account of DEA harassment of medical marijuana dispensaries in California, while federal medical marijuana patient Elvie Musika drew cheers and applause for standing firm for the herb.
While the crowds were happy to listen to Steves and other reform advocates talking to them from the stages between bands, drug reform booths were relatively quiet. Perhaps one out of a hundred Hempfest attendees stopped to talk politics, and maybe one out of 500 bothered to add his or her name to reform email lists.
That could be a mark of the "normalization" of marijuana on the West Coast in general and in Seattle in particular. After a rocky start with police in the festival's early days in the 1990s, police and organizers have reached an accommodation. Law enforcement reasonableness is doubtless linked to experience with the peaceful gathering, which has become a Seattle institution, but is also a matter of law and public policy in the city. In 2003, voters there approved an initiative making adult marijuana possession offenses the lowest law enforcement priority. With fewer than 40 marijuana possession arrests in Seattle last year, the police clearly have heeded the voters.
While Seattle police were visible and circulating among the crowds, a no-arrest policy was clearly evident. Officers walking or riding bicycles routinely passed clusters of young pot-smokers without taking action. Seattle police Wednesday told the Chronicle there had been a grand total of five arrests. "It was a peaceful event," said Officer Mark Jamieson, a department spokesman. "There were three felony arrests and two misdemeanor arrests, and a few patrons were escorted out of the park," he said.
One of those arrested was a young man who blew pot smoke in a police officer's face, a move McPeak denounced as "boneheaded" from the stage. Another was a young man who tried to steal a woman's purse and was chased down by the crowd and held for police.
For Officer Jamieson and the Seattle police, Hempfest is just another event. "Hempfest is approached the same way as any of the hundreds of other events held in the city annually," he said. "It is a permitted, legal event which requires Seattle police officers to staff, based on the numbers of participants that attend each year."
And that's as it should be. Hempfest is indeed the world's largest drug reform "protestival," but it is also -- and for the majority of attendees, more -- a celebration and normalization of the cannabis culture that they share. Given the broad community support in Seattle and a police department that knows how to follow as well as lead its community, America will know it has reached "drug peace" when Seattle's approach is norm and not the exception for similar events around the country.
To see how far we are from drug peace now, though, just ask yourself what might have happened if Hempfest had been held in your community.