Alva Mae "Granny" Groves, the 86-year-old North Carolina grandmother sentenced to 24 years behind bars after refusing to testify against her children, died last week at a federal prison hospital in Texas. Federal prison officials denied her request to die at home, saying her charges were too serious to allow compassionate release.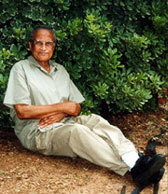 Groves had already served 13 years in prison after pleading guilty to conspiracy to possess with intent to sell cocaine and aiding and abetting the trading of crack cocaine for food stamps. She was 74 when she went to prison. She always maintained that she had been punished for failing to cooperate with federal prosecutors to lock up her children for life.
"My real crime... was refusing to testify against my sons, children of my womb, that were conceived, birthed and raised with love," Groves wrote in a 2001 letter to November Coalition, an anti-prohibitionist group that concentrates on freeing federal drug war prisoners.
Law enforcement officials continue to maintain that Groves played a key role in a cocaine conspiracy conducted by family members, but family members have always said she did nothing more than look the other way. Five members of her family were imprisoned in the investigation. Her son, Ricky Groves, is doing a life sentence, while Groves, her older daughter, and her granddaughter were all sent to federal prison in Tallahassee, Florida.
Groves became one of the poster children for sentencing reform as reaction grew to the drug war excesses of the 1980s and 1990s. But any reforms will come too late for the grandmother who loved tending her garden.
"It's a relief she's dead, but it's a hurt, a real hurt we weren't with her," daughter Everline told the Charlotte Observer. "What could she have hurt?"
Groves dreamed of getting out of prison, planting new gardens, and seeing grandchildren born while she was behind bars, but never had the chance. Her kidneys began failing early this year, and she was transferred to a federal prison hospital in Fort Worth.
Groves did not want to die in prison, she told the November Coalition in a recent letter. "I realize everyone has a day to die; death is a fate that will not be cheated. But I don't want to die in prison. I want to die at home surrounded by the love of what's left of my family."
Last winter, the Groves family asked for compassionate release so she could die at home. The family wrote to every official they could think of and enlisted the help of groups like the November Coalition, to no avail. As Groves' daughters leaned over her bed on July 19, prison officials handed them a letter denying the request.