Nicaraguan President Daniel Ortega said Monday he does not trust the US Drug Enforcement Administration (DEA) because its operations hide "unexpected interests" and "terrible things." Ortega did not elaborate, but he undoubtedly has keen memories of the DEA and the Reagan administration attempting to portray his Sandinista government in the 1980s as major drug traffickers while the CIA and Oliver North were, at best, turning a blind eye to cocaine running operations funding the US-backed anti-Sandinista Contra rebels.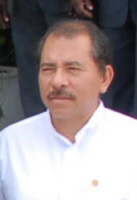 "You have to be careful with the DEA. You can't be blind," Ortega said in
remarks during the celebration of the Nicaraguan Navy's 27th anniversary
. "We have to wage the war against drugs, but don't come to us with stories about involving your Cobra helicopters and troops," Ortega said, apparently addressing the US government. "The best combatant is the Nicaraguan soldier."
The Ortega government has cooperated with the DEA. Nicaraguan soldiers seized more than 6,100 pounds of cocaine with DEA collaboration in the past year. Ortega said he would continue cooperating with the DEA in order take advantage of the agency's technology and experience.
But with one eye on Colombia, where hundreds of US soldiers and mercenaries are stationed as part of the US counter-narcotics and counter-insurgency effort there, and one eye on Mexico, which is apparently about to reach a major counter-narcotics assistance agreement with Washington, Ortega is signaling that such a massive US intervention would not be welcome in Nicaragua.