Since the turn of the century, psychedelic (or magic) mushrooms have been declared illegal by authorities in Britain, Denmark, Ireland, and Japan. Now, amidst a media blitz over a handful of incidents involving people high on 'shrooms, the conservative Dutch government is considering doing the same.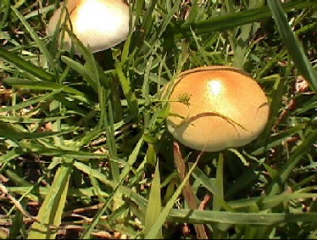 While the United Nations
1971 Convention on Psychotropic Substances
banned psilocybin, the main psychoactive ingredient in magic mushrooms, the mushrooms themselves, especially when fresh, have inhabited a murkier legal status. In the United States, magic mushrooms are illegal under federal law, but not the spores from which they can be generated.
In Holland, where marijuana is retailed at state-sanctioned coffee houses, magic mushrooms are also available at so-called smart shops. Under Dutch practice, the smart shops can sell the mushrooms as long as they are fresh. They also sell various "smart drugs" and herbs, as well as other exotic psychedelics, such as salvia divinorum or San Pedro cactus.
But ever since Gaelle Caroff, a photogenic French teenager, died after jumping from a building under the influence of magic mushrooms in March, sectors of the Dutch press and conservative politicians and Caroff's parents have agitated for their sale and use to be banned. Although Caroff had suffered previous psychiatric problems, her parents blamed the mushrooms.
Dutch newspapers repeatedly published photos of the 17-year-old Caroff and they began highlighting other incidents involving people high on mushrooms, usually young tourists: a Brit, 22, who ran amok in a hotel, breaking a window and cutting his hand; an Icelander, 19, who, thinking he was being chased, leapt from a hotel balcony, breaking both legs; a Dane, 29, who drove crazily through a campground.
Amsterdam health services reported in January that emergency services were summoned to deal with bad mushroom trips 148 times over a three-year period from 2004 to 2006, or about once a week. Of the 148 incidents, 134 involved foreigners. Other Dutch government numbers suggest that tourists are gobbling up most of the mushrooms sold in smartshops.
In response to the rising clamor in the press, Health Minister Ab Klink ordered the national health institute to reassess the risks of magic mushrooms. Klink has said that, depending on what the institute concludes, he will recommend either that magic mushrooms sales be banned outright or limited to those over 18.
Either proposed move appears to have broad support in parliament. A majority of center and rightist parties has demanded the fungi be banned. That would be in line with the broad contours of a Dutch government that is increasingly conservative on issues ranging from Muslim immigrants to misbehavior in Amsterdam's notorious Red Light District to a mostly frustrated inclination to try to reverse the country's liberal marijuana policy.