In a meeting last week with "a select group of Washington analysts," Thomas Schweich, Acting Assistant Secretary for the Bureau of International Narcotics and Law Enforcement Affairs, conceded that US efforts to destroy the Afghan opium industry had achieved only "mixed results" and said that the Bush administration would adjust its policies to be more effective. But Schweich's remarks suggested that any changes would be at the margins.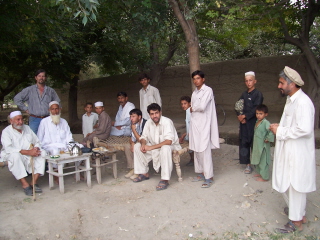 Afghanistan last year produced more than 90% of the world's opium, and increased production by 49% to more than 6,700 metric tons. This year's crop is expected to be even larger. Profits from the opium trade are widely believed to fund the resurgent Taliban insurgency, as well as line the pockets of warlords, governors, and government officials. But the crop is also a mainstay of the nation's economy and a lifeline to hundreds of thousands of Afghanistan's farmers struggling to feed their families.
In remarks reported by EurasiaNet, a news and information service for Central Asia and the Caucausus operated by the Open Society Institute, Schweich said that it would take at least five years to bring Afghan opium production "under control," but that completely eliminating it would be "impossible." Alternative crops for opium farmers had not been found and proposals to legalize production for the medicinal market were "impractical," he said.
Eradication had been a disappointment, Schweich said, a not surprising admission given large annual increases in the poppy crop in recent years. Schweich implicitly criticized the Afghan government for its limited success in eradication, saying manual and mechanical eradication techniques can at best eliminate 10% of the crop, while Washington wants to see that figure climb to 25%. Washington is itching to use aerial eradication against the poppy crop, but the Karzai government has so far demurred.
Still, he said, the administration's five-point Afghan anti-drug plan was fundamentally correct:
waging an effective public information campaign;
providing opium farmers with alternative and legal opportunities for earning their livelihood;
enhancing the capacity of Afghan law enforcement agencies to prosecute major narco-traffickers through their imprisonment or extradition;
eradicating opium crops; and
interdicting the flow of narcotics within and beyond Afghanistan.
The program is heavy on law enforcement and eradication, an approach that has so far yielded meager results. Since Schweich has already admitted that there are no good alternative crops, it appears US opium policy in Afghanistan will continue to rely on propaganda, some big sticks, and very few carrots.