The Arizona Supreme Court ruled late last month that police cannot routinely search the vehicles of people they arrest. In a 3-2 decision in State v. Gant, the court held that the warrantless search of Rodney Gant's vehicle after he was arrested, handcuffed, and sitting in the back seat of a police car went beyond an allowable search incident to arrest and was "not justifiable."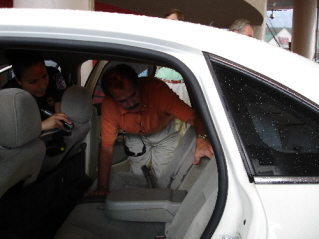 Gant, from Tucson, was convicted on drug charges after police waiting for him as part of a drug investigation arrested him on a warrant for driving on a suspended license when he drove up to a targeted address. Police knew he had the pre-existing warrant because they had checked up on him during an earlier encounter at the same address. When Gant drove up and got out of his car, police called him over and arrested and handcuffed him. They then searched the vehicle and found the drugs that led to his conviction. The court overturned the conviction, calling the search a violation of the Fourth Amendment.
The legal argument centered around whether the facts in this case were consistent with a search incident to arrest. US courts have recognized searches incident to arrest as one of the few areas where the Fourth Amendment requirement of probable cause or a search warrant not does apply, citing officer safety and the need to preserve evidence.
The Arizona Supreme Court held that the search of Gant's vehicle after he was already under arrest and handcuffed for a traffic warrant was not a search incident to arrest. "When the justifications [for a search incident to arrest] no longer exist because the scene is secure and the arrestee is handcuffed, secured in the back of a patrol car, and under the supervision of an officer, the warrantless search of the arrestee's car cannot be justified as necessary to protect the officers at the scene or prevent the destruction of evidence," wrote Justice Rebecca Berch for the majority.
Arizona law enforcement was not happy about the ruling, and some agencies suggested they would find ways to skirt it. Police departments across the state, working with the Arizona Association of Chiefs of Police and the Arizona Law Enforcement Legal Advisors' Association, filed briefs urging the court to uphold the conviction and hinting they would adopt different arrest procedures -- perhaps not handcuffing suspects until after a vehicle search -- to be able to continue the practice.
Justice Berch addressed that implied threat in her opinion. "We presume that police officers will exercise proper judgment in their contacts with arrestees and will not engage in conduct which creates unnecessary risks to their safety or public safety in order to circumvent the Fourth Amendment's warrant requirements," she wrote.