When police pull over the driver of a vehicle, are they also "seizing" the vehicle's passengers? That's the question the US Supreme Court pondered Monday as it heard oral arguments (transcript here) in the case of a California man arrested on methamphetamine charges after the vehicle in which he was riding was pulled over. Questions from the justices suggested they would not feel free to leave if they were passengers in a vehicle pulled over by police, and if that sentiment holds, the court could rule that passengers have the right to make Fourth Amendment challenges to any evidence seized and used against them.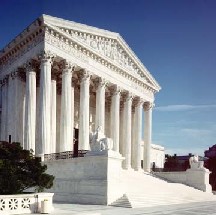 The case pits the state of California against Bruce Brendlin, a former convict wanted for parole violation. Brendlin was a passenger in a car pulled over ostensibly to inspect possibly expired inspection tags. The officer recognized Brendlin, arrested him, searched the car, found methamphetamine supplies, and added a drug offense to the charges.
Brendlin eventually pleaded guilty, but appealed on the ground that the evidence should have been suppressed because the traffic stop was later found to be bogus. (The officer already knew the tags were good because he had stopped the car earlier that same day). The California Supreme Court rejected Brendlin's appeal, holding that only the driver had been "seized" during the traffic stop -- not Brendlin -- and thus Brendlin had no basis for challenging an illegal search.
Brendlin's attorney, Elizabeth Campbell, told the court that when a police officer pulls over a vehicle, "he seizes not only the driver of the car but also the car and every person and everything in that car."
California Deputy Attorney General Clifford Zall argued that it is only the driver, not the passenger, who is "seized" because it is the driver who submits to the officer's authority. That caused some skepticism among the justices, a majority of whom indicated through their comments that they believe passengers as well as the driver are "seized." That is also the position of the courts in most states.
While Brendlin appears likely to prevail on this issue, he is still likely to be imprisoned as a parole violator. Still, what would likely be a symbolic victory for Brendlin could become a substantive victory for the rest of us.