The judge presiding over the retrial of prominent Northern Virginia pain specialist Dr. William Hurwitz has dismissed the most serious charges against him. On Wednesday, as the defense rested in the month-long retrial, Judge Leonie Brinkema granted a defense request to dismiss charges of causing bodily injury or death. Hurwitz still faces dozens of drug trafficking counts linked to his pain management medical practice.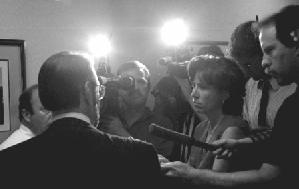 Hurwitz was originally convicted in November 2004 and sentenced to 25 years in prison. He has been there ever since, even though the original verdict was overturned on appeal. While he could still face substantial prison time if found guilty again, he will not face the 20-year mandatory minimum sentence that the charge of causing bodily injury or death carries.
In dismissing the charges, Brinkema agreed with two arguments advanced by the defense. First was that prosecutors had not proven the pain relievers prescribed by Hurwitz caused death or injury. Second was that the US Supreme Court in its decision upholding Oregon's right to die law last year ruled that federal drug laws did not give the Justice Department the power "to define general standards of medical practice."
That is precisely what federal prosecutors have done in dozens of cases like Hurwitz's. Prosecutors repeatedly -- and often successfully -- argued that doctors prescribing high dose of opioid pain relievers were outside the bounds of "accepted medical practice," and thus drug dealers, not doctors.
Now it will be more difficult for prosecutors to win a new conviction against Hurwitz. They must show that he knew the drugs he prescribed would be resold or abused and prescribed them anyway. Hurwitz has steadfastly denied that. Now prosecutors will have to prove that his problem patients were so obviously drug addicts and dealers that he had to have known his prescriptions were being diverted.