Federal prosecutors in the Ed Rosenthal medical marijuana cultivation case announced last Friday they will retry the guru of ganja, even though they cannot send him to prison and even though the presiding judge urged them to drop the case and admonished them for vindictively prosecuting him. US District Court Judge Charles Breyer, who has overseen the case from the beginning, demanded that prosecutors tell him who in the Justice Department had authorized this new prosecution.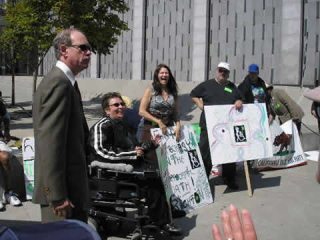 Rosenthal was convicted in federal court in San Francisco in 2003 on marijuana cultivation charges after Breyer ruled he could not present evidence showing he was cultivating medicinal marijuana legally under California law and with the approval of local authorities. When jury members heard the rest of the story after they convicted him, they held a news conference to denounce their own verdict.
In the wake of the juror rebellion, Judge Breyer sentenced Rosenthal to one day in jail, which he had already served. While his original conviction was overturned because of juror misconduct, the 9th US Circuit Court of Appeals upheld the one-day sentence, which prosecutors had appealed.
But that same ruling affirmed the federal government's right to prosecute medical marijuana violators, and the prosecutors, led by US Attorney Scott Schools, apparently irked by Rosenthal's high profile criticisms of them, decided to retry him on the cultivation charges and throw in four counts of money laundering and five counts of filing a false federal income tax return as well. Breyer threw out the new charges last month, saying they were solely to punish Rosenthal for winning his appeal.
"This isn't a criminal case, this is a political case," Rosenthal told reporters as he arrived at the courthouse dressed in a blue wizard's robe with a golden marijuana leaf emblazoned over the breast. "I may as well get my money's worth and have a trial."