In November 2005, voters in Denver approved a municipal ordinance legalizing the possession of small amounts of marijuana. Denver police and prosecutors refused to play ball, continuing to cite people under the state marijuana law. Now, to add insult to injury, arrest figures from the police department show they are arresting more people for marijuana possession than ever.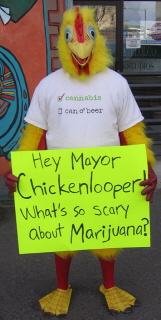 With 2,446 misdemeanor pot charges last year, Denver police busted 11% more people for pot in 2006 than they did in 2005. That's less than the increase in the overall number of arrests between the two years, which was up 14%.
But it was still too much for Mason Tvert, who as head of SAFER Colorado led the Denver legalization campaign. "If there's one, it's too many," Tvert told the Rocky Mountain News. "They (police) have the discretion not to arrest." Tvert also pointed out that the city's black population bears the brunt of marijuana law enforcement. Blacks make up 11% of the city's population, but are 32% of those arrested on misdemeanor marijuana charges.
Tvert has led a band of activists on a campaign to embarrass Denver Mayor John Hickenlooper over the arrest figures. This week, the activists have trailed Hickenlooper as he conducted campaign forums called "A Dialogue With Denver." Hickenlooper, who owns the Wynkoop Brewing Company, has so far refused to answer any questions related to the arrest figures, despite being hounded by a man dressed in a chicken suit calling himself "Whine-Coop Chickenlooper" and holding a sign asking "What's So Scary About Marijuana?"