Middlebury, Vermont, this week declared a public health emergency to prevent a local business from selling it. It's already illegal in five states -- Louisiana, Missouri, Tennessee, Oklahoma and Delaware -- and a number of towns and cities across the country, and now politicians in at least seven other states have filed bills to make it illegal there. For the DEA, it is a "drug of concern."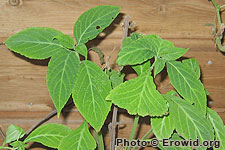 It is
salvia divinorum
, a member of the mint family from Mexico, where it has been used by Masatec curanderos (medicine men) for centuries. Within the past decade, awareness of its powerful hallucinogenic properties has begun to seep into the popular consciousness. Now, it is widely available at head shops and via the Internet, where it can be purchased in a smokeable form that produces almost instantaneous intoxication and a freight train of a trip lasting a handful of minutes.
As law enforcement and politicians stumble across it and the phenomenon of its recreational use, they are reacting in the classic fashion with moves to outlaw it. In Delaware, grieving parents of a teenager who committed suicide after using salvia managed to push a bill through the legislature. In Ohio, police who stumbled across it while investigating counterfeit goods raised the alarm, even though they had never had any problem with it. The cops responded predictably. "It's something we feel should be outlawed," Lorain County Drug Task Force Capt. Dennis Cavanaugh told the Cleveland Plain Dealer.
But researchers say the while salvia's effects on consciousness may be disquieting, the plant has not been shown to be toxic to humans, that its effects are so potent is unlikely to be used repeatedly, and its active property, salvinorin A, could assist in the development of medicines for mood disorders. While action at the state level would unlikely affect research, a move by the DEA to put it on the controlled substances list could.
Salvia is a popular item at the Urban Shaman Ethnobotanicals in downtown Vancouver, and media attention only spurs sales, according to proprietor Chris Bennett. "We're selling about 50 grams of the 10x every couple of weeks," he told Drug War Chronicle. "It's mainly young people -- although we don't sell to anyone under 18 -- but it's not limited to them. Whenever I get quoted in the media about salvia, I get a slew of new middle-aged customers who want to try it."
Once or twice is usually enough, said Bennett. "It's very powerful -- you can forget you even smoked it -- very intense, and the onset is very rapid," he explained. "There is also a lot of variation from person to person. Four people can be sitting in a room taking it, and one would be laughing, one would be afraid the world was ending, one would feel like he was two-dimensional, and one would say that everything seems to be made out of Legos. I hear a lot of people say that one."
Like many other purveyors of salvia, Urban Shaman provides an information sheet with each purchase. "We tell people they should have a sitter. If you're on salvia and end up on the balcony, you might think you can get downstairs by jumping," said Bennett. "You want to have someone there with you; it's irresponsible to use it by yourself," he said. "We also recommend a quiet environment. The experience can be influenced by background noise, which can be distorted or misinterpreted. Setting is important."
There are hazards to messing with hallucinogens, one expert was quick to point out. "It's an hallucinogen and while its hallucinogenic actions are different from those induced by LSD and other hallucinogens, it has the liabilities that hallucinogens do," said Bryan Roth, a professor of pharmacology at University of North Carolina's School of Medicine, the man who isolated salvinorin A. "When people take it, they are disoriented. If you don't know where you are and you're driving a car, that would be a bad experience."
Still, said Roth, while it may make you freak out, it isn't going to kill you. "There is no evidence of any overt toxicity, there are no reports in the medical literature that anyone has died from it. The caveat is that there have been no formal studies done on humans, but the animal data suggests that it doesn't kill animals given massive doses, and that's usually -- but not always -- predictive for human pharmacology."
"I'm unaware of any studies suggesting that salvia is toxic," said Thomas Prisinzano, assistant professor of medicinal and natural products chemistry at the University of Iowa. "Unlike other hallucinogens, it acts by stimulating opioid receptors, and basically produces an hallucinogenic experience that peaks in less than 15 minutes. It produces a subpopulation that finds it very unpleasant and never wants to do it again."
Nor, because of its intense effects, are you likely to get strung out on it. "There doesn't appear to be much potential for dependence or addiction, although no one has investigated this in any detail," Roth said. "The typical person I talked to didn't like the experience; it is too intense for someone looking for a mini-LSD-like experience. It's very rapid in onset and very intense, so it's not normally considered a party drug."
Even Bennett, whose clientele could be expected to contain some serious psychedelic adventurers, confirmed that it is not a drug that most people come back to again and again. "Even those who are interested in it don't use it very often, maybe once a week to explore head space, but those salvianauts are few and far between," he reported. "Most people try it once or twice and have no desire to try it again. It is the ones who use it with a purpose or for a spiritual quest or vision that seem to find it most useful," he said.
"There is a subpopulation using it for spiritual rather than recreational purposes," agreed Roth. "That seems to be the cohort that is using it more than once or twice."
While the DEA did not return Chronicle calls for comment on the current status of salvia, it has moved slowly. It has classified the plant as a "drug of concern" for several years now, but has yet to act to place it under the Controlled Substances Act. The plant's limited potential dependence could be one reason. Another could be that it is still relatively rare and unlikely to ever develop into a drug with a mass following.
That's fine with the scientists, who could see regulating salvia, but not prohibiting it. "The distribution of salvia should be regulated," Roth said. "We regulate nicotine and alcohol, and the effects of those compounds on human consciousness and perception is quite modest compared with salvia. That this is available over the Internet to young children is a bit irresponsible. They could engage in some dangerous behavior while taking it. We don't sell alcohol over the Internet."
But while Roth called for salvia to be regulated, he didn't want to see it added to the list of drugs proscribed by the Controlled Substances Act. "I'm against making it a Schedule I compound," he said. "Once you schedule something, it makes scientific research more difficult, and there is considerable potential for derivatives of the active ingredient to have great medical utility. Scheduling it makes it more difficult for those of us trying to relieve human suffering."
If salvia were prohibited, his work would suffer, said Prisinzano. "This would hurt clinical researchers more than me, and there is an effort underway to do clinical trials on humans before a review board now," he said. "But it would make it more difficult for me to get leaves. Right now we get them from head shops on the Internet."
Perhaps legislators in states like Iowa, Illinois, New Jersey, Oregon, and Texas, where prohibition bills are on the table, should calmly reassess the scope of the salvia menace and place such legislation on the back burner where it belongs. Or replace them with reasonable regulatory measures. But that's probably asking too much.