And we thought meth cook registries went too far. China's National Narcotics Control Commission announced Wednesday that it has established a data bank to monitor drug users. More than 785,000 people have been listed in the data bank since it began last August under the Ministry of Public Security.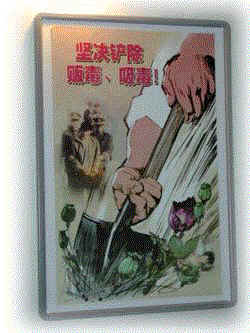 The drug user data bank is supposed to determine the number of China's drug takers, verify their identities, and monitor their current situation, an official with the narcotics control commission said. But it is also being used as a law enforcement tool, with authorities citing it as helpful in recent drug cases.
According to official numbers, which are undoubtedly low, by 2005, China had 1.16 million drug users, a 35% increase since 2000. But that number shrank to 720,000 by August of last year because of "compulsory rehabilitation measures and strict checks on chemicals and narcotics," the ministry said.
Under China's forced treatment program, drug users can be held for up to six months, but in February, Beijing police were considering extending that period to a year. This appears to be part of an effort to clean up the city before the 2008 Olympics. "We do not rule out the possibility of compelling all drug abusers in the capital to give up their addictions before the Olympics," said Fu Zhenghua, deputy director of the Beijing Public Security Bureau.
Well, heck, with that handy data bank, police should have no problem finding people to drag off to the drug re-education camps.