An Ontario, New York, man last Friday won the dubious distinction of being the first person arrested under the 2005 Combat Meth Epidemic Act. According to a DEA press release, William Fousse was arrested for purchasing cold tablets containing more than nine grams of pseudoephedrine within a one month period.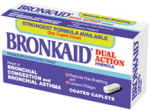 Under the Combat Meth Act, passed with little scrutiny when it was attached to a bill renewing provisions of the Patriot Act, chemicals widely used as cold remedies or other non-prescription medicines that can also be used in home meth manufacture, such as ephedrine, pseudoephedrine, and phenylpropanolamine, are now "scheduled listed chemical products."
Products containing these chemicals are now kept behind the counter. In order to purchase them, one must show identification and sign a log book at pharmacies. DEA and state and local law enforcement monitor those logbooks to see if anyone is buying amounts over the limit.
"This is a first for DEA," crowed DEA Western New York Special Agent in Charge John Gilbride. "DEA's focus is to dismantle clandestine methamphetamine labs and trafficking organizations and to also monitor the products that are illegally used to produce methamphetamine. DEA is committed to keeping our communities safe from the dangers of methamphetamine production and abuse. Today's arrest is a warning to those who violate the Combat Methamphetamine Epidemic Act."
Fousse is alleged to have purchased more than 400 Bronkaid tablets containing a total of more than 29 grams of ephedrine during the month of January -- more than three times the legal limit -- at one pharmacy and to have purchased a like amount at two others. It was a call from the first pharmacist to the DEA's Buffalo office that set the wheels in motion.
DEA agents visited Fousse at his home on February 13. According to a police affidavit, Fousse said he was unaware of the law, was not selling the pills to meth cooks, and was using the stuff himself. That was not good enough for the DEA and federal prosecutors. He faces a May 1 court date.