Last year, SAFER Colorado largely flew under the radar to a surprise win with its Denver marijuana legalization initiative. This time around, SAFER Colorado's Colorado Marijuana-Alcohol Equalization Initiative, now known officially as Amendment 44, is not having it so easy. But initiative organizers say they are within striking distance and preparing for a frantic last few weeks before the November elections.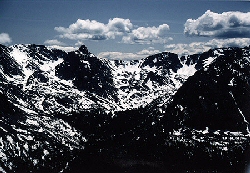 Like the Denver initiative, which legalized the possession of up to an ounce of marijuana by adults via a municipal ordinance (and which city officials promptly ignored), Amendment 44 is elegant in its simplicity. Voters will be asked: "Shall there be an amendment to section 18-18-406 (1) of the Colorado revised statutes making legal the possession of one ounce or less of marihuana for any person twenty-one years of age or older?"
If voters approve of the measure, Colorado could become the first state in the nation to vote to legalize the weed. Or, in a perfect world, it would join Nevada, where an initiative to allow the possession and sale of limited amounts of marijuana is on the ballot and very competitive.
But the fight is on. In the last two weeks, Coloradans have witnessed dueling press conferences, a challenge to Denver Mayor John Hickenlooper, who owns the Wynkoop Brewery, a debate between SAFER Colorado's Mason Tvert and Colorado Attorney General John Suthers, a failed challenge to some bad ballot guide language, repeated visits by high-profile, out-of-state anti-drug crusaders, and the emergence of a parents' group in favor of the initiative.
At a news conference in front of the state capitol last week, Guarding Our Children Against Marijuana Prohibition made its public debut. "We need to rethink marijuana prohibition and what it says about the priorities of Colorado and this nation," said Jessica Peck Corry, cofounder of the organization. "The science shows that marijuana is far less harmful than alcohol and for our children's sake it is time we treat it that way," said the conservative Republican public policy analyst with the Independence Institute in Golden, Colorado, who is also the mother of a 16-month-old daughter.
"I'm not a marijuana user," Corry told Drug War Chronicle Wednesday. "I see the drug war, however, as a greater threat to my daughter's future than the recreational use of marijuana by adults could ever be. Our government has spent $2 billion in anti-drug ads since 1998. I'd rather have this money spent on college scholarships for needy kids from our poorest communities. It's time to wake up to the fact that prohibition isn't working," she explained. "We say our nation trusts adults to make decisions in their private lives. It's time we live up to this promise."
"We're doing something right," said SAFER Colorado's Mason Tvert in between press events. "We've got two people running this whole campaign, no millions of dollars, no office, no multiple phone lines, and we're in a very competitive fight," he told Drug War Chronicle. "While the Rocky Mountain News had us down 42% to 53%, they only polled people who had voted in previous elections. But we're not too concerned with polling; last year, we were polling lower than this in Denver, and we won."
What SAFER Colorado is concerned with is winning the campaign and using innovative tactics. Thursday, for instance, Tvert issued a challenge to Mayor Hickenlooper on the occasion of the opening of the Great American Beer Fest. Since "marijuana is safer than alcohol" is SAFER's constant -- and so far successful -- refrain, Tvert challenged Hickenlooper and Peter Coors. For every beer they drank, Tvert said, he would take a hit of marijuana. Neither Coors nor the mayor bit, but the challenge garnered even more media attention for Tvert and the initiative.
"This ongoing duel with the mayor is a win-win for us," Tvert exclaimed. "Either he shows up and gets killed or he doesn't show up and looks bad. We're trying to do something fun and new and interesting that clearly explains our position that marijuana is safer than alcohol. We hope Bill O'Reilly is watching; we'd love for him come after us."
As in Nevada, the opposition is gearing up in Colorado, and it's bringing in outsiders from national anti-drug organizations. Coming to the rescue of Colorado children are such self-appointed crusaders as Dads and Mad Moms Against Drug Dealers head Steven Steiner, who, after his son died of an Oxycontin overdose, took funding from Oxycontin's manufacturer, Purdue Pharma, to campaign against marijuana legalization and even medical marijuana. He hit town on Thursday. Already parachuting in to help stop the initiative is long-time anti-drug zealot Calvina Faye, executive director of the Drug Free America Foundation. Former White House deputy drug czar Dr. Andrea Barthwell has joined the carpetbagging crew, too; she plans to wage the fight with a series of lectures to alert people to the dangers of the devil's weed.
"These folks are crazy," moaned SAFER Colorado's Tvert. "These people who come out here like Calvina Faye talking about 'our' children in 'our' state -- she lives in Florida and she doesn't even have children! And Andrea Barthwell, with her little marijuana lectures. At her first one, the only person to show up was our infiltrator, and they threw him out. The lectures are designed to convince you that marijuana is bad, but apparently you had to already agree with that to attend," he snorted.
But it's not all outsiders. Leading Colorado elected officials, including Attorney General John Sutherland and Lt. Gov. Jane Nelson are members of a new "grassroots" organization opposing the measure, Stop Amendment 44. That group has so far managed to line up the Colorado PTA, the Colorado Education Association, and the Colorado Association of School Executives against the initiative.
The group is led by Boulder County Republican Party chairman Rob McGuire, whom Tvert qualified as a worthy adversary. "He's very sharp and he uses clever positions," Tvert said. "But he's only doing this because the governor asked him to. Still, the group is a problem. Groups are beginning to come out against us."
McGuire may be a sharp operator -- we wouldn't know because he would not return repeated calls for comment -- but the Stop Amendment 44 web site has things as crazy as anything Calvina Fay or Steven Steiner ever said. One page warns that "Marijuana Gumballs can pack enough THC to kill a small child!," a patently absurd proposition. Another page on the site, "He Was Only 12 Years Old -- Now Disabled By Marijuana" is written by Colorado anti-marijuana crusader Beverly Kinard and pretty much speaks for itself.
It looks like October is going to be a very interesting month in Colorado. Can SAFER Colorado pull another upset like it did in Denver last year? The element of surprise is gone, but the group and its allies hope their message and their media assault can combine to compensate for that and make Colorado the first state where voters have chosen to legalize marijuana.