Rhode Islanders are registering under the state's new medical marijuana program at a rate of just under one a day, according to health authorities. At least 131 patients have obtained state registration cards since the program got under way in April, and another 129 people have been certified as caregivers.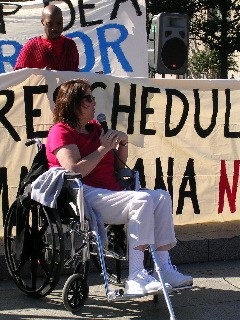 Rhode Island became the 11th state to legalize the medicinal use of marijuana in January. Under the Rhode Island law, patients with one of several chronic illnesses, including cancer and AIDS, must provide documentation from a doctor that the benefits of using marijuana for their condition outweigh the risks. The state Health Department then issues a registry card. Patients or their appointed caregivers may then possess up to 12 plants or 2.5 ounces of the weed.
Rhode Island law makes no provision for how patients are to obtain seeds or marijuana, and state health officials don't want to know, nor will they provide advice on where to get it. "I don't ask," said Charles Alexandre, chief of health professions regulation, the department that operates the program. "They frequently ask me where to get it. I have to do a bit of explaining," he told the Providence Journal.
According to Alexandre, 89 doctors have signed medical marijuana recommendations, alleviating fears that patients would end up going to a small number of "pot doctors."
Rhode Island is now joining the ranks of states where seriously ill patients may take their medicine in peace -- at least as long as the feds don't show up.