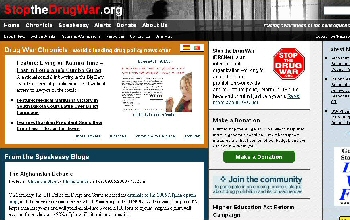 If you haven't been to the DRCNet web site the last ten days, you haven't seen... our new look, new content, new functionality, new ways to participate... you haven't seen this major upgrade to our critical educational program. When you do, we believe you'll be excited and impressed.
Our site traffic has already more than doubled -- and it's only just gotten started -- more is coming soon.
Please visit http://stopthedrugwar.org/donate to make a generous donation to help us continue to take DRCNet onward and upward to greater heights of visibility and impact. When you're done, click on the "Home" link and explore.
Thank you in advance for your support. Stay tuned for further news...
Sincerely,
David Borden
Executive Director
P.S. DRCNet accepts donations by mail too. Our address is P.O. Box 18402, Washington, DC 20009. Tax-deductible donations to support our educational work should be made payable to DRCNet Foundation. Non-deductible donations supporting our lobbying programs should be payable to Drug Reform Coordination Network, same address. Contact us for information on how to contribute stocks.